Interview: The Captain's Peter Hedin
on
June 9, 2017
Sysiac Games brings a unique twist on the classic pixel-art adventure game with The Captain, a title being developed with help from Indie Fund, and I talked with Peter Hedin, the graphics and sound half of the team, regarding the look and feel of the project, along with the challenges of quirky space exploration.
Erik Meyer: The game's plot involves the ill-equipped Captain Welmu trying to get home after finding himself many light years from his loved ones, and players navigate the universe in an attempt to find their way back. From this basic premise, you have created a vast number of locations, characters, and other permutations. This means that the content you add impacts other content already existing in the game world, creating a system of increasing complexity, as different choices lead to branching yet interrelated outcomes. Bearing this in mind, describe the process by which you generate and add content. Does the fact that you are a small team help your workflow? Do you produce new areas organically, and how much of the game's plot arc was down on paper when you started making assets?
Peter Hedin: The entire game is produced very organically! But I think that for us this is a positive. Not having things written in stone makes it both more fun and innovative. Since the adventures have separate storylines, there is no real need for a pre-determined plot arc. We like to see the game as a season of Star Trek or Battle Star Galactica; each episode (adventure) holds its own arc, and as part of a bigger perspective, the characters evolve and move forward throughout the season (game). The fact that we are only two guys working on this has both pros and cons, the obvious downside being we're just two guys working on such a large project. One upside is the effective decision-making process. If one of us has an idea and the other one likes it, we are a go.
EM: Your website describes Sysiac Games as two guys living in Nyköping, Sweden with a passion for indie development; you've been making games together for a long time. Describe the genesis of your working together. Also, what has it meant having support from Indie Fund? What have they brought to the table, and what has their process been like?
PH: We have been working with games for many years now, and with that, a natural work flow develops. We both know what needs to be done and who should do it. We complement each other really well, each with his own skill set. Getting Indie Fund on board means everything. It's a stamp of approval as well as a source of great input and hard cash. You truly can stare yourself blind on your own work.
Indie Fund offers help if you want it, but other than that, we are free to do as we please. They have been great in giving second opinions and helping to keep this project on course. Many times, you work with such focus for so long that you lose the bigger picture. For the moment, we rent a small office, not much bigger than our desks. We are pretty deep in the project, so often we know, coming to work, what we will do during the day. This is great, but a bigger workforce might have brought more distractions and everyday input, which would have been great, as well.
EM: You've described the architecture present at different locations as a way to keep the game universe alive and vibrant. What other kinds of details and touches do you feel worlds and created realities need to feel unique, and how do you keep everything balanced?
PH: Well, sound! Audio is a very important part of the overall feel of the locations. I don't know about Benny, but most of the time, when I come up with an adventure, I start with the music. Often, the music tells the story, and all you have to do is write it down. For example, listening to Edvard Griegs "In the Hall of the Mountain King", the story of mountain-dwelling trolls literally writes itself! Or listening to Lalo Schifrin's "Mission Impossible" just puts you in the shoes of an undercover agent. From there, you just go wild. The balancing comes after, when you playtest your adventures; you can get an overall feel for the tempo in the mission and adjust thereafter.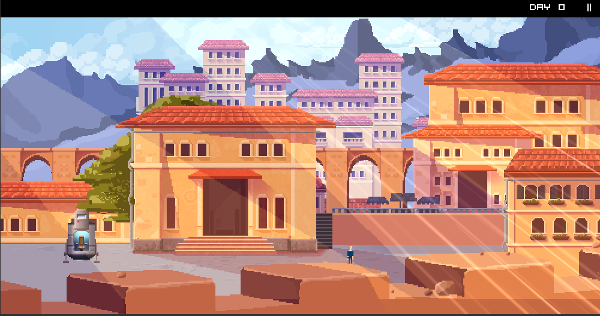 EM: Star Wars impacted the visual look of a huge number of games in the '80s, as did Star Trek, although I note you give a nod to Monkey Island in your site's game description, and I see aspects from games like Freddy Pharkas: Frontier Pharmacist and Beneath a Steel Sky leaving a mark. With so many iconic pixel games in existence, what tried-and-true elements do you find yourself relying on, and where do you see yourself blazing a new trail?
PH: When it comes to the graphics, We try to keep the visual style relatively simple (no strange perspectives) to keep it easy to produce. We are only two guys working on a huge game. As far as the aesthetics beyond that, we attempt to make it as appealing as we can and have time for. I personally hold the strong opinion that complicated graphics result in more difficult gameplay. It should be easy for the player see what is interactable without too much mouse scanning of the screen.
EM: Graphical adventures with multiple ways to resolve in-game hurdles are the most fun when it feels, to players, like they've stumbled on hidden solutions all on their own. To your mind, what is the key to giving an audience a sense of accomplishment? What makes for nuanced puzzles, and what gives high replay value?
PH: This is a tough one. I always hated adventure games with illogical solutions; even though I love Monkey Island 2, I hated the "monkey wrench" type of solution. You were to use a regular monkey, posing as a wrench, for unscrewing a bolt…I think. We also try to avoid to hard puzzles, since our adventures present at least 3 different endings each. We create the options to solve a single thing in 3 ways, easy, medium and hard, each leading to a different ending.
Members of my generation have very fond memories of the genre from their early gaming careers. The game mechanics also lend themselves excellently for good storytelling, not the least of which are puzzles. I also think the genre hasn't really evolved since the first games in the '80s, which could be seen as proof for something being already being perfected =)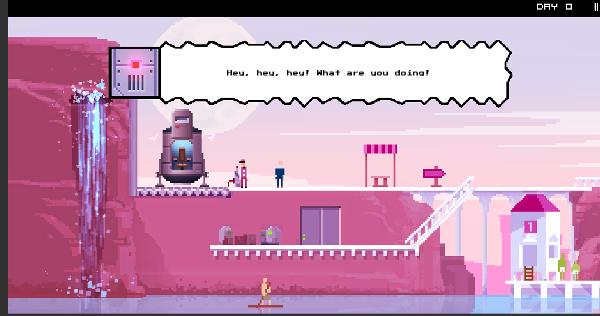 EM: You're adding 'ship adventures' or 'ship events' to the planet-based experiences of the game, along with mini-adventures and the task of navigating through star systems; what do you see as critical to uniting these pieces as a coherent game narrative? What do you find challenging, and are there facets you've had to leave behind to keep The Captain consistent?
PH: The critical thing that unites all the different parts of the game is the Captain and his journey home. As long as we can make all the parts play alongside each other and feel like they belong together and tell the same story, we are good. We had an idea for a universal trade system that we have abandoned for the moment, because it all comes down to time. We just don't have enough of it to do that vision justice. And also, the game constantly changes form. It's not the same game now as when we started. We've gotten such good responses on the multi-ending adventures that more focus has been placed there.
EM: The initial designs for the ship have changed, incorporating a science lab, crew quarters (you can take on boarders), an airlock, etc. What have you held as criteria for these expansions, and how do you make sure each additional area will be meaningfully used across each playing experience?
PH: This is the result of the organic development style. When we started, there was no need for an airlock, but as the game grew and the first space station missions were in place, we realized we needed one. With that incorporated into the ship, we backtracked and added it as a part of the introduction mission, as well. And now each time we do a station adventure, we have the airlock already constructed.
As far as for everything having to be meaningful, I don't think that's necessarily required. The goal is for two players that have played the game to have different stories and experiences.
For those who played the demo while it was available, we included 'The Captain's Vacation' adventure. In this example, the player gets unconsciously involved in a feud between a woman and an alien. Some players may play out that feud thread, while others might not and instead do something totally different. I don't want to reveal to much. =) In the end, we hope people will talk about the situation and more than once go 'What? I could do that???'
EM: Spacefleet Cadet is a fun way to get beta testers and keep people up to date on current game info; what kinds of feedback have you received from the indie community thus far, and what do you see as essential for building a solid relationship between devs and gamers as you continue ahead?
PH: As long as the demo was up and playable, we got a ton of feedback on bugs and minor illogical game events. Now, we are open for anything. If you have an idea for the name of a character or an outline for a mission, you are more than welcome and contact us.
People had overwhelmingly kind words after playing the second demo. Comments like those really fueled motivation. We have a poster in the office with some of those comments, and it's a great reminder and kick-starter on slow days.
***
Here's the trailer, in case you missed it:
https://www.youtube.com/watch?v=hCCsiUZ2pLc