Interview: Where the Water Tastes Like Wine's Johnnemann Nordhagen
on
June 22, 2017
Featuring tales from a multitude of writers, Dim Bulb Games has been turning heads with Where the Water Tastes Like Wine, a bleak American folk tale about traveling, sharing stories, and surviving manifest destiny. The unique narration style caught my eye, and I chatted with studio founder Johnnemann Nordhagen on the tapestry he's weaving.
Erik Meyer: WTWTLW takes players on an American journey, with yarns coming from the people we meet along the way. As opposed to common game narratives, this represents a departure, but one that the indie community has been responding to positively. Describe the philosophy behind your plotting of the game's composite elements, and how do you see the parts for the whole?
Johnnemann Nordhagen: This approach came out of the subject matter, in multiple ways. I was mostly interested in how stories change and grow and get carried around, and that led to a focus on stories other than the player's – I didn't want to center the narrative on the journey the player is taking, instead I wanted to consider the stories seen and carried along the way. The player is really just a vehicle for that, and an observer rather than the hero. And then, too, I decided that I wanted the game to explore the marginalized voices of the US, and a diverse range of them. There are so many of those that an anthology approach really seemed the only way to give them their due – and really, were it not for production constraints, we would have included many more characters and stories. There are so many begging to be told across the country.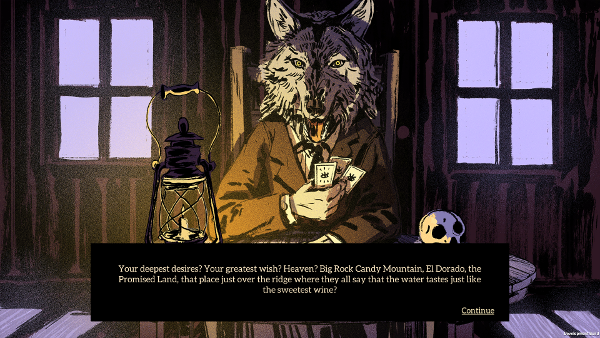 EM: I'm interested in your UI/UX strategy for guiding conversations; how do you represent functional dialogue options and menus most effectively? How do you balance intuitive play versus a need to convey a multitude of choices?
JN: This has been one of the biggest challenges of the game as it developed, actually! Early on I was attempting to make the act of storytelling feel compelling; one early prototype had the player engaging in a sort of action Mad Libs-style game to build a story from component parts – the longer you took, the more filler words would insert themselves, like "umm", "uhh", and the less entertaining the story would be. It was interesting, but ended up in pretty incomprehensible stories and really took the focus away from feeling like a real conversation. After that we experimented with a hand of Tarot cards that represented prompts to the other person, to tease a story out, but that was random and felt unfulfilling. Now we have the current storytelling system, and it works pretty well. The biggest challenge with UI is presenting options to the player in a way that gives them enough to choose from while not overwhelming the screen with a billion things and maintaining our really high level of visual polish. We're still working on refining it, but our latest design, by the good folks at Serenity Forge, the co-developer for the game, is a radial menu that is working well and looks great.
EM: The game deals in the surviving of Manifest Destiny and the American experience; what parts of our national mythos often get overlooked? (Also, do you think the bindle will ever make a comeback?)
JN: I think it's hard to realize how much of this country's wealth and land was stolen from other people. Even if you realize it intellectually, it is constantly shocking to realize how brazen the American expansion was – building a nation on land from others that we pushed off and then pushed off again. And it's still going on. Taking labor and lives from huge groups of people – importing slaves, first, and then migrant workers from across the border. We are proud of what we "built", not recognizing that the labor and foundations for the structure were never ours to begin with.
I think the modern bindle is the hiker's backpack, actually. A lot of people who live the hobo lifestyle or just hit the road for adventure sling on a backpack – it's a cliché for a reason.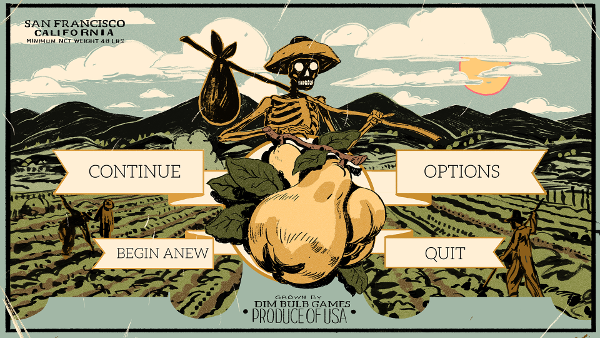 EM: With tools growing more powerful and the technical hurdles involved in game creation becoming less intimidating, indie games have come into their own as a vehicle for engaged, literary experiences. As a developer, how do you see WTWTLW existing in the games-as-an-art-form conversation?
JN: I think as a creator it's easier to ignore that conversation than try to engage with it. I'm trying to pour my heart and soul into this work and say what I think are important things, and I've gathered a bunch of other people who are doing the same, with the writing, the illustrations, and the music. Each of those could stand independent from the game and be impressive and moving. If people call the game art or don't call it art, it doesn't change how I approach making the work.
EM: As a development project, you're working with a lot of writers, and in my experience, that can be a bit like herding cats. How have you streamlined your process, and what have been the challenges in presenting the works of so many individuals?
JN: Haha! I don't know that I have streamlined the process. It's still really hard, and while I've grown in leaps and bounds on this project, I still have a long way to go in project and people management.
I am most concerned with giving the contributors their dues, actually. I think it's easy on any game for people to get lost in the mix. On this game, the writers are such a strong core component of it – they are really the meat of the whole project. Without them, none of this would exist! At the same time, it's hard/impossible to have a whole group of people represent a game, and by necessity, I'm going to be the public face of the project during development and promotion.
To counteract that somewhat, we have title pages every time you encounter a character that credit the writers responsible, so that hopefully players can remember that they are the ones responsible for the stories and the feelings, at the end of the day.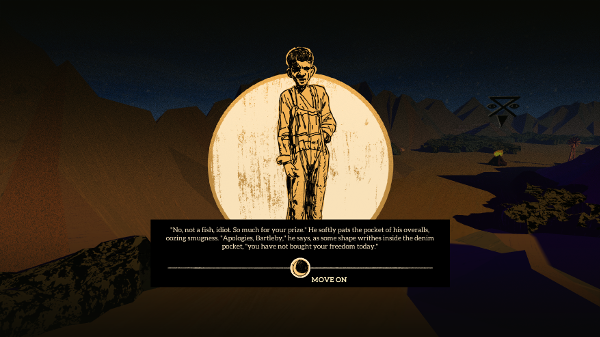 EM: WTWTLW evokes trains, wide open spaces, traveling stories, and a connection to the richness of community. What else would you add to that list? If I were to recontextualize the project as a pot of stew, what spices do you feel still need to be added?
JN: I would hope it's also somewhere between wistful to full-on sad, actually. A game using the same things you listed could be made and it would be a happy jolly romp through the countryside.
Part of that feeling, actually, is the music – which is another essential ingredient of the stew. Maybe it's the basis for the whole recipe! A lot of the ideas in the game grew out of my love for American roots music, and the sound and culture and stories of those songs. And they are often sad or wistful – bluegrass is called "that high lonesome sound", and blues is named after feeling sad.
EM: Your project has a big advantage, in that the sole programmer of Gone Home is involved in the role of designer/programmer. To what extent do the experiences and lessons of past projects assist in your current work? What kinds of expertise have come in handy?
JN: I'm really lucky that I got to see the inside of triple-A game production for many years before going indie – it gave me an idea of the whole scope of projects and the various jobs that will need to be done before the end, in addition to practical experience at a number of levels. Then working on Gone Home gave me the ability to ship a game as the sole programmer, and also gave me the confidence to do so. That said, every game is different, and there's also a huge change in moving from programmer on a team to sole programmer to… studio lead? Creative director? Whatever the hell I am now.
EM: Good writing makes the ordinary extraordinary, and WTWTLW takes players off the beaten path to aesthetically pleasing locations for experiences that transcend everyday life. As you've added locations, characters, and fantastic elements, what do you hold as key criteria to keeping each interaction unique yet consistent with the universe you're creating?
JN: Very early on we established the key themes of our game – the era, the feeling, the things we're trying to get across as ideas about America, the American Dream's failures, and all the other big ideas. I think just putting that at the forefront of every conversation I have with a new team member makes it work out – really every email I send to someone I lay out "here's what this game is about, these are our values" and I think that's key.
Here's the trailer, in case you missed it: