Interview: Skelattack's David Stanley
on
December 14, 2017
Playing as an enchanted skeleton answering the call of a dungeon alarm bell, gamers will find lore, camaraderie, and magic in Skelattack, a platformer releasing early in 2018. With plenty of Generation X nostalgia on the table and a hero made of bones for a protagonist, I had plenty to chat about with developer David Stanley.
Erik Meyer: The game begins as Skully becomes aware of intruders in the dungeon, providing a role reversal compared to many dungeon crawlers. While the game uses basic movement and combat mechanics common to platformers, and the art style brings a 1980s cartoon feel, this larger idea of protecting the homefront from invaders adds a great deal of depth and urgency to what might otherwise be a simple beat-em-up. What do you see as critical in creating compelling motivation for protagonists? Is it enough to drop us into a quirky world, or if we need to be oriented, to what degree?
David Stanley: For some games, I have seen it work quite well when players are not aware of any specific motivation. Tons of mobile games do this, which is helpful for player retention and those with short attention spans. Even on consoles, with games such as Abzu, you don't need much information to hop in and have a good time. With Skelattack, the earliest build of the public demo offered very little info/text outside of, "Okay, we're being raided, let's go!". The issue I saw was that some players were slightly confused and not aware that the humans were the antagonists here. I don't enjoy when games hold your hand too much. Gamers are typically pretty smart when left to their own devices. But Skelattack vastly improved when I added NPCs and lots of conversations. This dungeon community counting on you for survival is such a great motivation for Skully. I always knew it was crucial to the story; I just needed to give that information to the players in a smarter way. Being so close to a project can make you blind to what you really need to give to the player.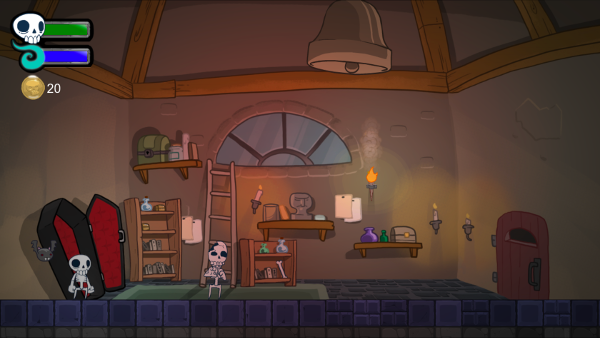 EM: Imber the bat serves as a companion and a conversation starter, relaying info while also being a conduit for magic spells. From a storyteller/developer point of view, and looking back to characters like Morte in Planescape: Torment or the sprite companion in Hyper Light Drifter, how do drones, pets, or disembodied heads further games? From a mechanics standpoint, what unique attributes do they bring to the table?
DS: From a storytelling standpoint, they further games by vastly increasing character development opportunities. If you have a single character walking through the entire game alone, having them speak their inner thoughts aloud to an empty room is always awkward to me. Look at Joel and Ellie from The Last of Us. We learned so many amazingly funny, touching and quirky things about them just by them being in each other's company. Things we wouldn't know if either of them were alone for the entire game.
From a mechanics standpoint, companions give developers the freedom to try new gameplay features that the main character would not be able to achieve alone. Whether it's Navi giving you crucial battle info when you lock onto enemies, Kazooie flying Banjo to safety, or Imber latching onto Skully's head and taking flight, it gives us so much to play around with, and hopefully we discover things that make our companion an asset to the team, instead of having a boring companion just for the sake of having one.
EM: By way of books and a library, you've packed a lot of lore into the Skelattack world. Lore can come to games in a number of ways, via inclusion in quests, optional reading, dialogue, etc, so when it comes to including information about a game universe that isn't otherwise conveyed via the visuals or in-game experiences, is there such a thing as too much? What has your world-building process looked like?
DS: I do think there can be too much. It's funny that I drew my lore inspiration from Skyrim, and in the same breath I have to say that the sheer amount of lore made me less likely to read it all. I'm sure others will disagree. But that's the interesting thing about indie development. You want to include these grand designs, but if you work alone, you aren't handing that off to a coworker. It all falls on you and you have to make some tough decisions about how much of any feature you want to include. Working alone on Skelattack, I started by outlining what major areas would exist in this dungeon (Sewer, Greenery, Prison, etc). The settings are all drastically different and naturally help to shape lore as well as what the NPCs in the area might think is important. What hobbies they might have. I started big and worked my way down to the little things, and that felt very comfortable.
EM: I hold a deep nostalgia for 1980s and early '90s cartoons, and as TV/internet modes of consumption have changed, so have the ways in which viewers engage with animation. If I were to claim that retro-style indie titles, browser games, and mobile platformers have taken a similar place for younger contemporary audiences, would you agree? Similarly, when we look at the ways in which audiences interact with specific game worlds, what do we gain with modern electronic platforms, and what do you see as pacing/flow lessons to be learned from earlier forms of entertainment?
DS: I would definitely agree with that. The methods of playing and distributing games have changed for this new generation. What we play/experience as kids seems so much more substantial than anything that comes after it. It's very cool for me to see that retro-styled games still make so much impact. With modern platforms, the internet, and digital media, we are experiencing simultaneously the best and worst that gaming has to offer. It's all a quick download away, and the amount of new stuff coming out daily serves to keep every dev on their toes and hopefully doing their best work. In regards to pacing and flow, the earlier games usually didn't throw too much at you at once. I liked that. Some modern games seem to come out with guns blazing, and before I know it, I've got a list of 15 controller inputs to memorize, names of cities and characters that I'll quickly forget, and a few sidequests piling up. This may also be a side effect of me being in my thirties.
EM: From a setting and mood point of view, what is it that draws us to dungeons, skeletons, demons, and creatures of the night? As you've developed your project, what have you found, in terms of visuals or audio, gives the right 'feel' in this arena?
DS: The mystery, the danger, the lack of rules when it comes to creature design and world-building! There's no single accepted rule on how a goblin should look. You can take a lot of liberties artistically. Something that I settled on very early in the project was that everything in this dungeon is incredibly old. This is reflected in cracked and battered stone blocks, dust falling from the ceiling, dust being kicked up from Skully's every step. I had a lot of fun with the characters since there were no rules, aside from simplicity and some body proportions for maximum readability. Music-wise, Jamal Green has been a superstar. His mischievous but playful themes really make the game special. He uses the marimba/wood blocks to great effect…almost sounds like bones knocking around!
EM: You've released a demo of the game, so I'm interested in how that fits into your larger release schedule and what the demo has been providing to you, in terms of feedback, an ability to do pre-press for the game, etc. As you're putting playable content out into the world, how does that dovetail with media relations, and what responses have you been getting?
DS: As a developer, show them rather than tell them. Even better, let them play it rather than show them. I released my own builds of the demo before I even started looking for a publisher. It was one of the best decisions I made for the game. The demo provided so much great feedback and bug reports, which was crucial for me to make it this really solid game that I have now. I've also made some incredible friendships out of it and have had the pleasure of cheering these people on in their own endeavors. Having a freely-available demo out means that the game is doing work for me when I sleep. Somebody out there is playing, recording their thoughts and putting together a Let's Play as we speak. The response to this game has been phenomenal. I think that's due to my attention to detail on this passion project, as well as how I treat my community. The internet/world doesn't owe me a thing. So to get Greenlit for Steam, publisher support, console release confirmation, and articles/features from some of the big publications is a daily source of happiness and motivation for me.
EM: The drawn style reminds me of something delightful out of home-grown rollplaying manuals, so in terms of game assets, what do you maintain as a unifying art direction, and what is the philosophy that guides your hand?
DS: I appreciate that! I really wanted the visuals to grab you even if you aren't a gamer. A fun rule for myself was not to get too attached to 90º angles. For the terrain you interact with, they are perfect squares. But most of the background illustrations and props in the game, there's an unbalanced nature to them that I took from some of my favorite cartoons such as Rocko's Modern Life and Ren & Stimpy. I didn't push the cartoony nature as far as they did, though. Another simple thing I imposed is that nothing in the game can be outlined in pure black. A bookshelf, for instance, will be outlined in a darker brown. This really gives the game a softness and charm that makes it inviting. My overarching philosophy, I suppose, is simplicity first. Working alone means I must spread my time working on assets wisely and make sure they all appear to be from the same world.
EM: As you get ready to launch your title on multiple platforms, what does your to do list look like? What constitutes the bulk of your day?
DS: Thankfully, that list is quite small at this point, but it encompasses all aspects of development. I'm at the point now where I'm just tying up loose ends, and it's amazing how many small things you neglect or just forget to do along the way! An updated sprite here, a tweak on the HP of a Boss, some atmospheric effects over there. I have a day job in mobile game development, so a large chunk of my day is devoted to that (gotta keep the lights on!), though I try to give Skelattack a few hours each day if possible. I really enjoy playtesting the full game now, making absolutely sure that everything holds together. Amazing that it's still a fun experience.
In case you missed it, here's the trailer: