Interview: Epic Loon's Maxime Lagache
on
January 3, 2018
As a twisted love affair with the life of a movie-buff '90s nerd, Epic Loon combines unusual platformer mechanics with parodies/homages to cult classics and some odd breeds of aliens. The game gets back to basement couch basics, providing for solid battle mode gameplay in addition to a single player experience, and I chatted with developer Maxime Lagache on the game's bizarre quirks…
Erik Meyer: Epic Loon has an interesting origin story, in that an otherworldly VHS cleaning cassette was purchased in 1994 and has seemingly corrupted Joe's VCR and TV, making for altered versions of horror/monster films. From a development and a writing standpoint, described the freedoms granted by this initial premise, and what do you see as the limitations/responsibilities you have to the universe you're creating?
Maxime Lagache: The whole universe of Epic Loon was put together quite late in the development process (after the gameplay proof of concept), and one of the main advantages to the concept we chose is it gives us a lot of freedom. Old VHS, old TV, 90's era, we can basically use an almost infinite number of movies. The idea was to follow those incredible movies, because everybody knows those different plots, characters and famous scenes. But obviously, you can't stick to the entire movie, because it would be too long and would not be fun. For instance, the parody of Dracula / Nosferatu is a good sample of the work we've done, there's not a lot of action in that movie, and a bunch of different places (London, Carpathian mountains, Dracula's castle, asylum, boat, mansion, etc…). This movie was our first try because we thought it was the most difficult to adapt. At first, we wanted to represent all those different places and wanted to stick to what's really happening on the screen. We potentially would have ended up with something like 100 levels if we wanted to have the same ending. It was too much, too slow, and too confusing, because you can't interpret and be 100% accurate to the original movie, it's just a game and having all the twists, dialogues and scenes of the movie necessary for a good understanding of the movie in a game doesn't make any sense, so we decided to introduce something called "sabotage". The aliens' goal would be to sabotage those beloved movies, changing the ending and the continuity while Joe watches. It was a necessity for the development process to cut a lot of scenes, and much more easy for us to bring fun and absurdity into the game.
From there, you can basically do whatever you want, as Aliens mess up the screen, I would say responsibilities to the created universe don't really matter, because movies are way different. We can't make a global guideline, but from our point of view, several ways are possible for our parodies :
Parodies of cult scenes is a must have. Examples : T Rex pursuit in Jurassik Land, female vampires for Nosferacula, stomping in Tokyo for Grojira or space jockey in Alien.

Mocking some scenes / characters when it's about showing the cheap side of the original movie, or to contrast with seriousness for example.

Always think about Level Design while choosing scenes to parody.

Never forget that the whole project is a game, it has to be fun, it has to be dynamic.
Maybe the only thing shared throughout all the different VHS is a balance between sincere but humble homage and absurd sabotage. We want players and cinema fans to feel the tribute to those movies, to smile or laugh to a cult scene that sometimes goes nuts, to notice cool references, etc…
EM: I see a deep love for campy sci-fi and retro horror movies driving the game, so from a cinephile perspective, describe the persona of Joe and the motivations therein. Do you feel a strong character who provides consistent input is the key to getting an audience emotionally invested in the project, or do the parodies provide the main draw?
ML: Joe's a cinemaniac, what you might call today a movie nerd, he's a standalone parody, he has basically no life and only lives for cinema. He knows everything about every movie, actor, plot,etc…
If he was born in the 2000's, maybe he would be a video game nerd. Same person, same maniac, different hobby.
Joe is necessarily a cinephile, because everything revolves around movie details and situations that the aliens mess with. All the concepts of the game, the fun, the clash and the contrast between him and the aliens, comes from hijacking his original movies, so he needs to know every detail of each movie, to face and react towards those annoying space slimes.
He prefers dealing with the aliens himself rather than calling for help, he thinks he's the real VHS expert, and to be fair he might actually be right.
We all know someone like that, sometimes irritating, who knows everything, and who's able to give you the release year of almost every movie. Always having him in the background is essential to recall (and it might be a contradiction at first) that we are in a movie he's watching.
I'd say both Joe and the parodies provide a nice feeling while playing. Both are essential and indivisible.
EM: You're grounding the game in a specific time/genre aesthetic, so much as Cuphead had to carefully create assets with the timing/animation of early cartoons, so are you mimicking VHS tapes while parodying classic films. As you've created levels and experiences, what challenges have come with this specific look/feel?
ML: The main difficulty was to unify under one common style the aesthetic of very different movies from alien to nosferatu. German expressionists to sci fi / horror movies. We had to give a certain consistency to the VHS assets and props without forgetting original movies specificities.
We used photographic sources, with slight cartoon proportions, with a black and white rendering.
Not easy at all at first : we had problems with general consistency, either the "cartoon" side would take over, either global rendering was too photorealistic and lacked originality : players were not recognizing movies they were playing in, or if they did, it was not at first sight.
But things eventually managed to be balanced through hard work, especially by keeping in mind the real backbone and soul of the game : VHS & iconic monsters.
There's only one limit : time. Then money 🙂
Apart from this, we sometimes took liberties : adding a bit of colour here and there, when we thought it made sense, or by adding 3D props to give another perspective during cinematographic cutscenes, for instance.
EM: Different game modes include: Story, Speedrun, Hardcore and Battle. Unlike many of the titles from the '80s, we now see a variety of options for different play styles, options that move beyond easy, medium, and hard, so when you design for different types of engagement, what do you hold as criteria, to ensure that Battle mode is as challenging as Story mode is engaging?
ML: There is no level of difficulty, because everything in this game is about Level Design, it would have been hard to quantify difficulty when you don't have numerical values. You can give more HP or attacks to an enemy, but in Epic Loon, it's all about level design ideas and physics engine luck/unluck :). We could sort our levels by difficulty, but I have a personal reason for not doing so… I'm the best at wall jumping, but fail very often on timing based levels, for instance.
You're right, battle mode needs to be challenging. Half of it comes from the players, it's a race, so you just need to give players variety in levels, and develop very simple concepts inside battle levels. They need to be easy to read, and have only one feature, or two at max. We try not to mix different types of level designs : mixing wall jumps with ropes, wind zones and bouncy stuff is not a good idea. Battle mode is way more dynamic, catchy and aggressive, we use the different game mechanics to give players a quick way to achieve levels and / or to mess with other players.
It's as simple as that. Then props and decors from movies give us enough food for thought…
In story mode, the feeling is very different, it needs to be in direct relationship with scenes from the different movies, and focus on some Easter eggs or cool references. The goal is to discover various gameplay mechanics oriented by the movie key scenes. Engagement is then natural and all about re-discovering those movies. Here, we can mix a lot of different stuff, it just needs to be fun. Players can take time to pass levels, no stress at first. The challenge in setting up those kind of level designs comes from the fact that it has to be playable solo. Then it's a lot of testing and tuning.
EM: Gaming has experienced a huge retro love affair with '80s style pixel games, so I'm curious, do you see a similar thing happening with '90s style graphics? It occurs to me that the '90s was very much a time of hardware transition, so what design and visual themes do you see dominating that time period?
ML: I see the 90's as a hardware transition as you say, because it was mostly the beginning of 3D games and the peak of very nice 2D games : better 2d graphics, better storytelling, etc…
Maybe we're going to see a bunch of titles showcasing the beginning of 3D, with cheap 3D graphics, for instance. In Hipsters we trust…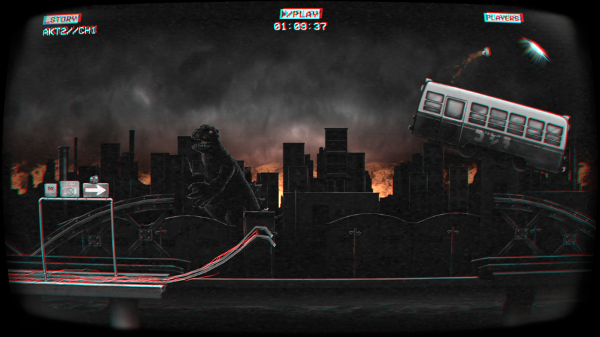 EM: The aliens themselves strike me as a somewhat gremlin-ish group that obey somewhat quirky, if altered, laws of reality, so as you've gone along, what tweaks have you made based on the goals and needs of the characters, and how much of their agenda has evolved/driven the development process in unexpected ways?
ML: The whole game design revolves around aliens and the quirky physics, so as you can imagine it took us quite a long time to fine tune the gameplay. All aliens used to have a special power, one could teleport, another had a shockwave ability to push elements, one could stick with his head to platforms and one could create a platform for others. This was one of our first prototypes: it was fun, but needed too much control on how levels were designed, it was time consuming and we had to make all levels compliant for those powers. We gave up on this idea to focus more on the "sticky" power, it was much more fun, and way more easy to make levels. Balancing powers in a race-like game is a bit too complex, and would not have given us the freedom to create 300 different level designs. Choice was made.
Another thing came to my mind : at first you could have control on the direction of the tentacle, but as our tests were going, we thought it was much more fun to have an automatic swing for the tentacles, it is a very slight detail, but we were surprised that this small change in gameplay really did change the game. With automatic swinging, we had everything we wanted : a fine balance between luck and skill! A mixed feeling for players between "it's exactly what I wanted to do," "I'm so skilled" and "I'm so lucky."
Last but not the least is about dynamics : the aliens used to be slower, automatic swinging and propulsion were something like half as fast as today, so we multiplied gravity and speed by two or three, and it also completely changed the feeling of the game, it was more dynamic, we could feel impacts on walls and something like a "ballistic" feeling. That was really fun.
EM: Macrales Studio is working with Ukuza, CNC-Pictanovo, and Shibuya, so from an institution standpoint, how do these different groups help carry the project? What does coordination look like, and what impacts do additional entities have on the creative process?
ML: Nothing. Shibuya, CNC and Pictanovo just helped us to gather some money at the very beginning, but none of them had an intrusive hand on the project, and that's what's cool about them. We thank them once again. Ukuza is more like the final editor, they will help us to get some visibility in this wide ocean of indie games; they also help us with release deals, market shit, etc…
EM: As you're releasing on a number of platforms, what do you see as must-have criteria for a group couch game? Be it differentiated goals, quirky competition, balanced level design, or other nuanced criteria, what works best to bring the room together?
ML: The only must-have is obviously a couch and 4 pads.
But in terms of game, I'd say that competition is important, feeling the upgrade in skills when you are able to master the game (after a few hours) is also a must have and most of all, that slight feeling of randomness due to the physics engine that gives a chance to everyone, a noob can finish in first place on a misunderstanding, and this creates rage, tension, and that's what the game is all about : fun, laughs and rages.
And beers. A lot of it helps.
Here's the trailer, in case you missed it: