Interview: Deliver Us The Moon's Jordy Velasquez
on
January 16, 2018
By way of graphics that evoke nostalgia and a sense of urgency perpetuated by puzzles, a lack of oxygen, and a backstory of global failure, Deliver Us The Moon has caught the eye of the indie community, catapulting players into a do-or-die space mission; at time of writing, no release date has yet been determined, and I chatted with KeokeN Interactive developer Jordy Velasquez on his goals for the project and the challenges therein.
Erik Meyer: In terms of the narrative experience, Deliver Us The Moon drops players into a mission to save the resource-depleted Earth via a lunar mission, and gamers quickly set about exploring abandoned moon base facilities. I notice that aside from the drone that follows and assists, the halls stand devoid of life, so can you speak to the challenges of creating an experience that is somewhat solitary? What storytelling challenges come with a lack of chatty NPCs?
Jordy Velasquez: The short answer is there are several challenges (haha). What we have been trying to do with the lack of NPCs is to reinforce our environmental storytelling by carefully placing information, both organically and inorganically, throughout the areas in our game. We also have some nice elements that help reinforce this, but you'll have to wait and see.
EM: As an American, I note that the moon carries a sense of nostalgia, probably because manned missions ended in the early 1970s, meaning that more than 40 years have passed without people actually voyaging there. Yet it remains an iconic time and technological achievement, so how much have similar feelings driven your project, especially given the bleak Earth-future you're painting?
JV: As an American myself (the only one on the team), I hold a similar opinion of the moon. The moon is magical because everyone, regardless of where they are from, can recognize it. It's a place we all know, and for the vast majority of us, we've never been there. It's exactly this allure of mystery that we want to capture, alongside the bleak universe we paint, to shed light on how important taking care of our planet is and how important to the future survival of our species space exploration is.
EM: Unlike a fair number of indie developers, your team has more than a handful of members, so describe the workflow environment within your studio walls. How do you push each other creatively, and how do you determine whether new ideas fall within the scope of the project and deserve the time required to implement?
JV: At the moment, we have 10 people focused strictly on development. While some studios are smaller, for a project as ambitious as ours, having less people can become very difficult. Team members have the roles they were hired for and at the same time do some things they never though they would do. I was hired as a business developer and am now also part of the narrative design team. With startups, sometimes you have to pull up your bootstraps and be flexible.
We push each other creatively by constantly talking about the project with one another; we share a common obsession with it, and we decide what goes into the game by first looking at its logic and then by its impact. For a tiny, young indie team like ours, it's been a real roller coaster of ups and downs. People need to understand that making games, whether you're a large team or small team, is extremely difficult.
EM: I'm a sucker for department and bureaus, so I find the WSA (Worldwide Space Agency) compelling, as it necessarily comes with its own history and lore, so as you've created things in the game that currently don't exist, how far do you go into the minutiae of backstory and events? Is it enough that we know bickering between countries prevented a solution, or do you find it helpful to create dossiers, timelines, and fictional agendas to flesh things out?
JV: We use a variety of different things to create the lore of the lore of the game. The trick is to give enough info so that a player who doesn't read is entertained, as well as having enough information around to reward a player who enjoys diving deeper into a story. We are using a a multitude of narrative elements to try and pull the player into our universe.
EM: Describe your philosophy behind what makes puzzles compelling and an integral part of a game experience. What purposes do puzzles need to serve, and what UI/UX thoughts do you bring to mechanism controls?
JV: The beauty of a puzzle is that it allows players to be challenged and make them feel as though they are actually there. Designing puzzles is hard (haha). What makes something compelling for one person may miss with another. For us, it's trying to create puzzles that feel like they're organically part of the environment and add to the feeling of being an actual astronaut on this mission.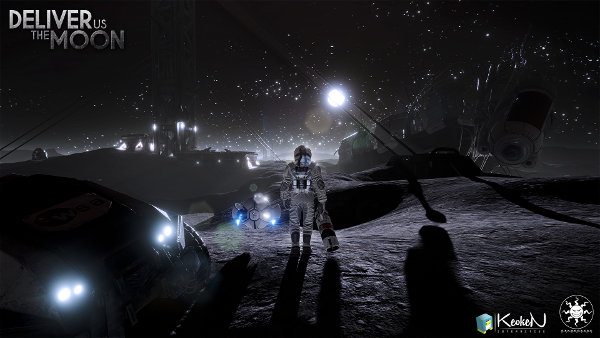 EM: I'm curious about the ability to construct narrative by way of the ruins from previous lunar missions littering the landscape, i.e. facilities from different decades and countries. As you've been putting maps together, has the placement of wreckage, facilities, and equipment clung to the narrative, or have you found it taking on a more organic feel? How much do you feel people need to discover things in the right order, as opposed to a more modular design?
JV: We changed a lot about the narrative as the game became bigger. We found that for our team size, it would be more feasible to have a somewhat linear story with less focus on countries and more focus on characters. We leave a breadcrumb trail for the more investigative players, but we do make sure our main story is in the critical path for our player.
EM: A successful Kickstarter campaign helped push the project ahead, so describe that process, both the campaign itself and the interactions with the public in the time that has followed. As a studio, how do you select images, audio, and other media to pique the public's interest, and what kinds of feedback have changed the project, as you've gone along?
JV: Our Kickstarter campaign was everything to us. It was one of the most difficult and rewarding feelings when we reached our goal. We had an incredibly lucky interaction when the biggest Youtuber of Germany(GronkH) played our demo. Our Twitter followers went from around 800 to over 12k in an hour. He even did a stream on twitch to help us out and called it "Deliver us the money". This interaction led to ID@Xbox to invite us to present the game with Microsoft at E3. They even showed a clip of the game on the big screen at the Microsoft press conference that year. That event led us to meet our publisher Starbreeze, a partnership which has allowed us to create something we never thought possible when we started this.
EM: Do you see the game more as a work of fiction or as a cautionary tale? As developers, how often do you see something in the world of science or geopolitical politics and think it's the kind of thing that could spawn the scenario you're creating?
JV: This game has elements of a cautionary tale, but it also challenges the player to explore motives and think about what would be best for our future. Today's world has a lot of uncertainties, but has that ever really been any different? There are definitely issues we see that need to be addressed, but how much they will affect us is hard to determine. We just hope people will play our game and find it compelling and enjoy what we have created.
In case you missed it, here's the trailer:
https://www.youtube.com/watch?time_continue=7&v=Gx_fxHVQk38