Interview: Newt One Dev Team
on
February 19, 2018
Created by DevNAri developers Ari Carrillo and Dev Jana, the musical platformer Newt One hangs its hat on nonviolent play and an aura of friendly difficulty that seems altogether too rare in gaming. Players follow Newt and Curno through a world that has fallen into the Great Slumber, and I chatted with the team on the project (which released this Valentine's Day).
Erik Meyer: In playing through the review build, the beginning gives a number of static images with text that narrates/orients the player in the game world, which feels like a narrative style from console titles from my childhood, so what's your philosophy behind the best way to draw the viewer into an electronic experience? What do you use as your guide as set up the first 5 minutes of play?
Ari: While action games tend to start players with a big set piece, disasters, or at the end of a battle that teaches players gameplay mechanics, our game sets its calming, relaxing mood by introducing its characters, story, and what is happening to the game world with a cut scene. Soon after, players enter the map world where they are shown basic gameplay mechanics in a safe space or area.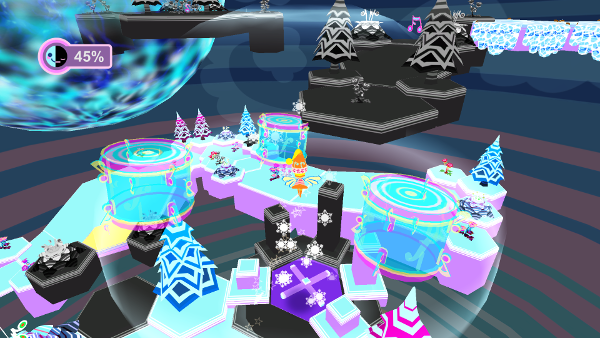 EM: Individual levels are presented as locations on a larger world map, so beyond the themes of said worlds, what have you held as the criteria for game elements/assets and the overall aesthetic? Within individual levels, we see trees, owls, music notes, water, flowers, and other visuals that must be touched, turning them from black/white to color. Similarly, the drum, wings, and scroll, once picked up, serve specific functions within the game world, so what goals/standards do you have for the player experience, when it comes to these elements working together?
Ari: We originally had the idea of starting players in an area full of ruins, but designing broken buildings with overgrowth implied that the inhabitants of the world had used its resources somehow and disappeared. We liked the idea of presenting a world untouched and pristine where the same land is only affected by natural causes such as the Great Slumber and not by its inhabitants.
EM: I see an increasing number of games being developed that exclude violence, and I applaud this stance on your part, but I'm also interested in what kinds of challenges you see devs taking on by removing 'bad guys' or other dangerous elements from games. With so many titles focused on bloodshed (or at least fighting), what do you have to do to combat expectations?
Dev: I don't believe violence is a necessary ingredient for compelling conflict in storytelling or game design. Gameplay wise, our game hinges on the reveals of realms and their eccentricities as much as it does story. The interplay of the main character and the environment are enough to offer challenge and wonder without a "combat loop" or violence as it is usually represented in games.
One of the more interesting things we've seen from exhibiting the game publicly is that often, people don't realize that it is completely nonviolent until after playing for a while. There's enough to do without harming anything. In fact, it can be pretty easy to start designing a game around shooting stuff – that's the old gamer saying "if it moves, shoot it!" – but, with effort and creativity, a nonviolent game design can be equally compelling and rewarding for the players.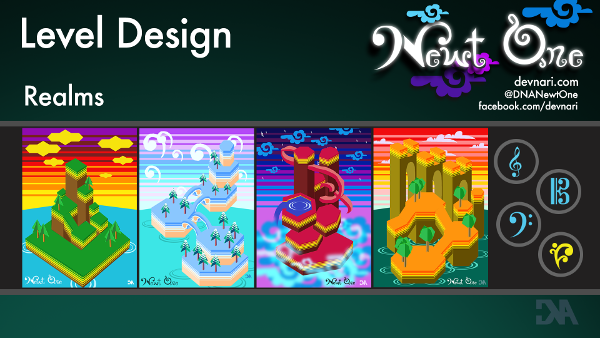 EM: As a fellow Midwesterner, I should ask how the cold winters and arts-friendly climate of Minneapolis influence your work. I see you've gotten recognition from 2D Con and Gamer's Rhapsody, so what kinds of support comes from the local community and finds its way into the overall game experience?
Dev: Being a part of the Minnesota game development community has been unreal. We are consistently happy and proud to be a part of it and consider our colleagues friends and family. Without a doubt. There's been much positive reinforcement, but also a complete willingness to challenge us on our ideas and designs. Many of the better design adjustments have come from questions asked by the others in the MN game dev community. There's no way the game would be what it is now without everyone's help and support.
Ari: Luckily most of the game production process happens in front of a computer, so the outside weather really doesn't get in the way of working on our game. But just to be sure, I designed the winter world during the summer and the other realms during the winter so I would have something colorful to look at and balance the colorless scenery outside my window during the cold months.
EM: Music plays a huge role in the game, as activating physical objects makes corresponding sounds and cues take place. Can you speak to the task of having music mirror these in-game actions and the technical side of making sure the sonic qualities of events complement the visuals?
Dev: This was always at the heart of what we wanted to do. In fact, the earliest versions of the project included music completely generated by the game. This music would then create and affect the environment. Now the opposite is true – the music reacts to how the player interacts with the environment.
This new music system was one of the first "breakthroughs" of the current game's system design. There's a "drone" that is more prominent when the levels are darker and not yet awake. There's a series of stem tracks that mix in real time as the drone gets quieter while the level progression happens. Then there's a series of arpeggiated notes that are aware of the current dominant chord pattern at any time which is triggered when the player awakens something. Also, there's another layer that fades in when the player has the wings and is floating. It was one of the "hooks" of the game, and I'm rather proud of how subtle the effect is when playing.
EM: The player has a lot of control over the camera, something I actually found somewhat surprising, because it gives the player an additional element to control while navigating the game. As you've assembled levels and placed 3D objects around the maps, what do you see as the tricky part of playing with a wandering viewpoint?
Dev: I've always really liked the amount of camera control we were given in older 3D games. I personally usually like the camera to be further away, but we've observed people who like the camera close in for more accurate platforming. Also, once Ari added the ability for Newt to blink, it became super important for me to allow the player to see that!
EM: The low-poly art comes with a bright palette and a cartoony feel, so when it comes to things like moving platforms, owls, and parrots, what have you held as key to informing players about aesthetics of the game universe?
Ari: Earlier during the production process, Dev discovered a setting in Unity that flattened the look of the 3D graphics, and we loved it. So, in order to help players know where the edges of platforms were, we added yellow stripes to all platforms which allowed us to remind players of the shape of a platform before they would step on it or jump from it.
We originally had 4 kinds of friendlies in the game, Owls, Crabs, a roundly shaped character, and parrots; all of them were meant to help solve puzzles in the game in their respective worlds, but once the Drums and Wings were added, the extra animals in the game were no longer needed, so we narrowed it down to the Owls and the parrots that you can rescue.
Since Newt and Curno were for the most part affected by gravity, it made sense to keep only the flying creatures in the game to make players look up now and then and notice that even the sky and clouds are affected by their awakening progress of the game world.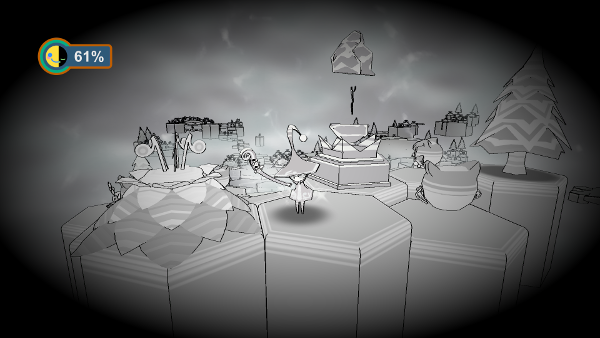 EM: Options for release platforms have shifted a great deal in the last few years; obviously, we've moved away from physical copies of games, but as developers, what do you see at the horizon, in terms of distribution? In the world of Steam, Humble Store, Utomik, and GOG, are all things created equally?
Dev: I'm not sure they are created equally, but we definitely want to make the game available in the right places. Many platforms require a good amount of programming to make the conversion work. That's something that needs to be prioritized and considered, but each platform also has different audiences. Newt One is a weird little game, so finding its audience is a bit of a weird process, but we're just getting started! Look for Newt on new platforms throughout 2018!
In case you missed it, here's the trailer: