Interview: Year In The Trees' Christopher Smith
on
April 10, 2018
By way of its pixel art alone, 2D survival action RPG Year In The Trees establishes itself as an intriguing prospect, capturing a natural feel with sprite graphics stylings. Set in an enchanted forest packed with procedurally-generated content, players can expect to fish or explore caves, farm or unlock rare armor recipes, cook or discover hidden lore, and I chatted with Lunoland designer and fellow Midwesterner Christopher Smith on his solo project.
Erik Meyer: You've spoken to the influence of games like Crawl, Adom, Hyper Light Drifter, and Moonman, among others, and I note these games focus on beautiful minimalism, meaning devs only use as many pixels as necessary to convey an action, something that has certainly carried over into your work. From a visuals standpoint, what standards do you hold for yourself regarding tiles, trees, and the animations themselves? What does your workflow look like?
Christopher Smith: When I first started, I thought I would eventually need to bring in a "real" artist, because I thought I wasn't good enough. Originally the minimalism was just a practical thing: I wanted to do something I could succeed at, and pixel art seemed like that thing. It's really become a central part of the project since then though.
With all the uncertainty in indie games at the moment, my advice would be to start something you think you can finish yourself. That way, the game won't be cancelled due to a collaborator leaving or you running out of money. It's no accident that self-reliance and stoicism are some of the major themes explored in the game!
One thing that I love about the visual style is the orderliness that accumulates as the resolution gets smaller and smaller. The individual pixels become increasingly important, so you have to be very deliberate about where you choose to place them. Low-res art makes the game more performant too – the textures are absolutely tiny! Animating also becomes much easier, but backgrounds become a huge bottleneck because you have to be so meticulous. You can't just paint.
I think some pixel artists develop a style that fight against this to keep things more organic by working the way they would in high-res digital art…just with the pencil tool. I like the pixel art styles that embrace the rigidity though. You let the blockiness of the pixels become part of the visual vocabulary. It becomes more analytical. It's almost like you're uncovering the correct way each object should look in the game world through trial and error.
Regarding my standards, yeah, I definitely feel like there's a "right" way everything in the game should look and I will continually revise an asset until I find it. It can take 5 minutes or it can hours, but I just know it when I see it. I've developed this crazy ethos that every part of the game, including things like the UI windows and fonts, should be of a piece. The perfectionism is kind of a burden, but having a strong aesthetic foundation gives you an easy way make choices and decide what should and shouldn't be in the game.
EM: The in-game menu system conveys a range of information (health, map, inventory, etc), so as you've added and tweaked elements, what UI/UX principles guide the way? Even good games like Terraria can have a lot of hotkeys and cumbersome menus; what kinds of ergonomic/graphical considerations come into play?
CS: The UX is still very much a work in progress. It's true that I've been heavily influenced by ADOM and other classic ASCII rogue-likes, but my god do those games have a lot of buttons. I'm actively working against that! It's a PC game first and foremost, so keyboard/mouse will be the default mode of play, but I'm trying to keep it relatively painless to use a controller as well. I'm absolutely married to the grid-style inventory, so we'll see if I can actually pull it off!
I love games that have an ornate, skeuomorphic look to the UI. I came up playing Everquest and those kinds of early dorky-looking PC RPG games with a lot of UI. There's a trend now in modern games to do the slick, minimal thing. It's like you look at trailers and #screenshotsaturday and devs are downright afraid to show their UI! It can make sense for some games, but the whole web 2.0 look is something I'm trying to resist.
I actually think Breath of the Wild is guilty of this, but it's such a lovely game that I don't think anybody cared. Blizzard is definitely doing this right though: I referenced Hearthstone quite a bit when designing my UI. That and the old Heroes of Might and Magic games!
EM: Crafting/recipe mechanics can make the detritus of game worlds more interesting, but an overabundance of options can also be overwhelming or dominate the experience, so as you've implemented this set of features, how do you make everything run like clockwork without feeling too predictable? It's fun to craft, but a game can't only involve collecting things, no?
CS: Agreed. I'm glad you brought up Terraria, because in some ways that's the kind of game I'm trying to avoid. I don't want you to have to play the game with a wiki open the whole time. For this reason, your character has to actually unlock a recipe before you can craft it, so don't even bother with Google. Everything will be in your recipe book! You can also find usable items scattered throughout the world or by trading with NPCs.
The crafting in this game actually functions a bit more like a quest log though: You start with a few basic recipes, and as you craft more, you'll discover new recipes that require increasingly exotic ingredients.
In the background, there are several tiered tech trees that govern how the recipes unlock, so the kinds of things you tend to craft will be the kinds of recipes you learn. Some of the recipes tiers are mutually exclusive, so your character will actually become specialized over time (if you learn to make the very best armor, you won't be able to cook the very best food).
The new recipes show you the ingredients, but not where to find them. My hope is that this will gently guide players: "Oh look, I just unlocked hearty stew…hmm, but how do I get a potato? Where can I find stock?", and thus you set off on your path to become the greatest chef in the land.
Players who aren't interested in crafting can loot dungeons instead. Or you may grow/collect resources and trade with NPCs for provisions. My lofty goal is that players will feel intrinsically motivated to pursue their own goals, but that the game will be guiding them in the background so that they won't feel the need to use Google too often to progress.
EM: As creatives, it's important to acknowledge the roles our surroundings play in our projects; I live in the Fargo area, while you live in Chicago, so what does the Midwest contribute to what you do? Similarly, as you've been looking at crowdfunding options and sharing your work through social media, what adjustments and takeaways have presented themselves?
CS: I'm very Midwestern at heart! At this point, half my life has been in Chicago and the other half in Michigan. Chicago has a great indie community that has become increasingly important to my personal development, but I really do miss the nature and beauty in Michigan. The city can actually be pretty stifling for me a lot of the time – the cost of living is high, there are so many people everywhere, and day-to-day life is much more stressful and inconvenient than it was in Michigan.
I think the game actually represents my longing to return to more natural surroundings. I've always wanted to move back to Michigan, but my career and personal life have become pretty dependent on Chicago. Most of my friends live here. The bands I play in are here. The only games people I really know are here. So maybe the fantasy of escaping to a solitary cabin in the woods and the game world that I'm inventing are a way of coping with the things I'm missing here in the city.
I think in talking about my ideas for the game with others and trying to get my work out there, I'm learning that this is actually a pretty good hook too; a lot of people seem to feel the same way. I think the charm and success of a game like Stardew Valley speaks to this.
EM: Music and sound in general play a prominent role in your work, so I should note that you're recording your own live performances on various instruments to make the audio unique; can you let me into your process a bit? Within 8-bit games, what do you see as *generic* music, and which elements that you add/approaches you use bring critical nuances?
CS: I love working on the game's music because it's the skill I've spent the most time developing. My degree is actually in music! I feel so much more efficient when working on the soundtrack than I do the art or code.
As for the live performance aspect, I want to be careful not to make any kind of value judgement about working purely with MIDI. I don't record live because I think it will be better per se, it's just sort of what I know already. I try to highlight the live soundtrack as an interesting point of differentiation though, since most game music tends to be some flavor synth and very much "on the grid".
My process is sort old-fashioned, but it's not like I record to tape or anything. Since it's just me, I multi-track everything to a click unless there's a lot of rubato or it's primarily a single part. Most of it is just me sitting at the piano chasing ideas around for a few hours until something grabs me. I usually build everything on top of some harmony that I find interesting, but occasionally a hook or melody will form first and things will take shape around that.
Once I have enough of a structure to go on, I put down a scratch piano reduction of the tune, and then I arrange everything on top of that. I mix a bit as I go, and once I've tried all my ideas and it feels like there's nothing left to add, I switch into full-on editing/mixing mode. If I'm being good, I'll put the tune down and come back a day later for a final mix and a quick master. At the very end of the project, I re-master the work as a whole, and that's it!
A lot of the aesthetic in my music leans pretty heavily on tape machines and electromechanical stuff (rhodes, mellotron/chamberlain, tone-wheel/transistor organs, that sort of thing). They're sounds that are somewhere between a synth and an actual acoustic instrument.
That stuff is great because it's got a ton of character and dirt, but it's very unambiguously a reproduction. It never enters the uncanny valley the way a lot modern sample libraries that are striving for realism do. I think the stylized pixel art look is equally timeless for the same reason. Realism doesn't tend to age well! Then again, the vintage tape machine sounds we use today were once the hyper-realistic samples of the 60's, so who knows. Maybe future devs will be making retro "uncharted" style graphics in another 30 years, but I kinda doubt it.
As for what makes game music sound "generic", I think a lot of it tends to fall into the same two buckets because of the history: There's the sequenced chip tune/80's synth wave stuff that comes from the limitations of early computers and consoles, and then the cinematic orchestral stuff with apocalyptic choir/tribal drums coming out of the film & television world.
Those styles aren't bad (although I personally don't care for the cinematic stuff), they're just ubiquitous; It's going to be pretty tough to stand out doing the synth stuff unless you can hire Disasterpeace or Survive! It think this is actually a good thing, because it represents a huge opportunity for indies…there's this blue ocean of local musicians hungry to collaborate who exist outside the tradition of game music.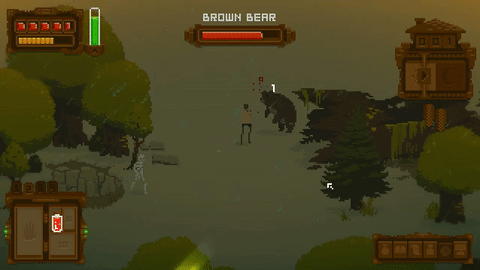 EM: I like that you're meshing survivalism and magic in YITT, meaning I might have to fend off a bear and a skeleton at the same time. That said, what do you see as critical in balancing activities like fishing, mining, and farming with magic and hidden secrets? When you seek to balance the different options, what are your criteria?
CS: It shows up in Don't Starve a bit, but I'm definitely aiming for more of a high-fantasy setting. There's a lot of post-apocalyptic zombie stuff and gritty nature survival out there…I want witches, herbs, and crystals!
The balance part is tough because I'm not really there yet. Like, the game is very vertical slice-y at the moment, so I have a lot content planned but I don't really know how much of it is actually going to work.
For what I have in mind, you will definitely be doing some Gandalf shit though. You will definitely shoot a fireball. Magic is just another natural process that can be potentially understood in this world, but the setting is sort of low-tech so most of the inhabitants are fairly ignorant of how the world works. This meshes with the nature survival stuff pretty easily though, as anything you'd do in this world like fishing, you can do it just a little bit better with magic.
It might sound a bit lazy, but in the story I've written magic is sort of a stand-in for humanity's ability to disrupt homeostasis and shape the world towards our ends (human flourishing, usually). I promise there's nuance though! The story does not take a clear stance on the ethical question of whether or not it's best to do this.
EM: The fact that you use randomly-generated levels and items to nudge players toward different preoccupations and experiences means YITT will have solid replay value; as a developer, what is your philosophy behind revealing the history of the game world? How do you dole out secrets and narrative flow, given varied exploration and advancement options?
CS: I hope so! I'm trying to design the game so that you won't be able to see everything on a single character.
As for the story, uncovering it will be pretty passive almost by necessity. I think if you're trying to make a rogue-like where it's very player directed and vaguely sand-box-y, you can't really have the player be the "chosen one". The story can't be happening to them, they have to be free to interact with the parts that are novel or interesting to them and ignore the stuff they've already seen (especially if they're going to be dying a lot). So a lot of learning happens from electing to cultivate relationships with NPCs and discovering ambient lore hidden throughout the world.
For example, one of your characters may discover an abandoned house that you've never seen before. If you explore it, you might find some journal hidden under a loose floorboard that provides a little backstory on the people that lived there. It won't show up in every game, but the next time you see it, you can just move on. Excepting a few big moments, most of the narrative will work this way.
A lot of these vignettes will end up being flavor, but some of them will tease the central mystery of the world. Players who like to explore and hunt for secrets will accumulate enough of these little pieces that, when taken as a whole, give you a pretty good idea of what's going on. It's the sort of thing where I have this whole back story, but I suspect only bits and pieces of it will actually make it into the game and a lot of wildly inaccurate fan theories will emerge. I love that stuff!
Of course, it should also be possible to just ignore the story altogether and survive by running a little farm for a year, if that's your thing.
EM: You are a multi-instrumentalist and recording engineer who loves pixel art and has a day job as a backend programmer and business intelligence analyst for an online retailer. You've also participated in Indie City game events, not to mention your application to the Swedish games incubator Stugan, so how do you see these varied aspects of your life finding their way into your work? As you chart a course for yourself, what do you fall back on, and what drives you forward?
CS: Hmm, I guess mostly it's that I have this pretty broad range of interests and that I've spent a lot of time cultivating, but I don't think I could ever be fully satisfied in a career where I only get to focus on one of them (well, maybe original music, but let's be realistic, I stand a better chance of winning the lottery at this point).
I'm sort of worried I figured this out 5 or 6 years too late, but indie games is a space where I can do *all* of these things and more. It's pretty amazing! I never get bored, and I feel this real sense of excitement and motivation.
I just never thought it would be possible for me to have any kind of shot at a career where I wouldn't hate Mondays, you know?
At this point, I would absolutely make a deal with the devil and give up playing games forever if it meant I could be paid a livable wage to make my own indie games. In some ways, that's kind of what I've already done (see my Gamasutra article).
So yeah, my ambition right now is the same as everyone else's: find a path to working on the game full-time. Stugan is definitely a part of that. If I'm accepted this year, that'll be like dipping a toe in. Maybe a whole foot. I work a crazy amount on the game outside of my regular job, and I've even taken on a second freelance job to try to start transitioning to half-time. So I'm doing everything I can to make this happen, there's not much time left for anything else, and a major part of me can't help but wonder if I'm just deluding myself.
I acknowledge that that's probably a bit unhealthy, but it's what gets me out of bed these days.
In case you missed it, here's the pre-alpha teaser trailer: