Interview: Odd Gods' Gil Maclean
on
August 25, 2018
Odd Gods drops players into an isometric tactical roleplaying game set in the '90s, and its devotion to subcultures and music explores new territory for an indie cRPG. Also, there's spacetime travel. And pop culture demons. In development by Inn Between Worlds, a new studio formed by industry vets in Melbourne, Australia, I chatted with lead designer Gil MacLean on the project and its quirks.
Erik Meyer: Odd Gods stands as a low fantasy isometric you describe as a, "hardcore '90s-style RPG about the '90s," using subgenres and music in place of classes and alignments as characters travel through time. Given the grounding of the players in the recent past, do you envision the project as a love letter to that time, or do you see your work more as commentary uniting eras of the past with similar themes? I notice that alternate histories and rebellions play a huge role (the French Revolution never happened, for example), so what challenges have come from using a specific non-contemporary time and then changing timelines?
Gil Maclean: For me, RPGs are about player freedom – freedom to decide your own role and interpret the story as you see fit.
I see the 90s as a kind of 'lost decade', where underground subcultures and music were powerful – like a near-future version of the 60s, rebelling against mass commercialisation, brands raised to 'deity' status, and the cargo cults that followed. It was a pretty subversive period, like reality took a cue from John Shirley cyberpunk dystopian fiction and mashed it with a lyric sheet from Rage Against the Machine, and global zaibatsus taking control of the earth, like a modern pantheon of demons, or gods… You could get beaten up for a pair of branded shoes, or ostracised for listening to the 'wrong' music.   Music was the dominant medium, really – people all over the world would hear the same music, watch the same music videos on MTV – the internet's influence was not that significant yet. Music could start riots, change history, and set factions against each other. Conversely, subcultures bonded over themes, identity and crucially – music. It was like a… crossroads, between the analog and dawn of the the digital era, before we granted control of society to computer daemons made of code and driven by profit-seeking algorithms, and that conflict – and the power of subcultures and music – provoked a kind of cognitive dissonance, demonstrating a power which I think is interesting territory to explore.
You asked 'is the project a love letter' – Odd Gods is designed from the ground up as a period piece with a big dollop of anachronism. For that theme to work (or any theme explored in an RPG, I'd argue), yes – there has to be a 'love letter' aspect to it, but that's just one aspect. We need to write that love letter, then burn it at the altar as a tithe. While the fire's still crackling, sacrifice the nearest sacred goat and throw that on, too. Sift through the ashes and bones for burnt scraps of that letter and leave them for players to discover and maybe piece together in a way that makes sense to them.
Do I see OG as uniting eras of the past with common themes? Using one time period as a frame to explore another with time travel/alternate realities is basically saying: if we do our job well, abso-bloody-lutely. Exploring alternate history, which you do in Odd Gods, allows you to set up 'what if' scenarios and try out ideas. There were bright, burning periods of time where music, art, politics, and of course subcultures flourished – what if you shuffled them around a bit? What would the world look like?
As far as challenges go, it's about executing the anachronism. What happens when worlds collide? On a macro scale, if you have a pantheon of pop culture demons and give them a time machine, what happens? We can re-enact Ash's boomstick scene from Evil Dead 2, and it makes coherent sense in our world. What happens on an individual level to a Goth press-ganged into service on a privateer in the age of sail, a Ska Punk lost in Elizabethan times, or a Raver stumbling into a Pictish solstice ceremony in the time of Julius Caesar, or when a Grunge head wakes up in a jungle camp in the midst of the CIA's secret war in Laos, or when you stumble across a lost tribe of Skateboarders deep in the Peruvian jungle. What effect does that have on history, and what does one reality matter?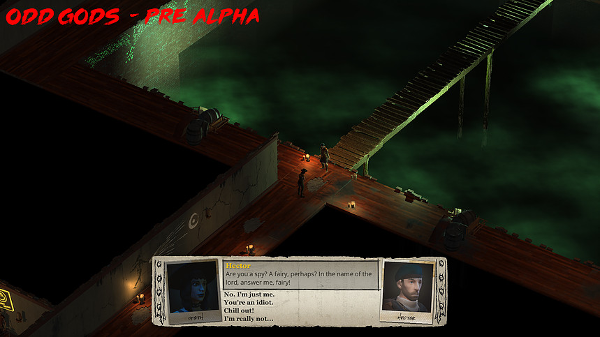 EM: The combat system has drawn a fair amount of attention, in that characters are given orders but don't complete those instructions until the gamers end the turn, meaning opponents and players act in a way that combines decision making and turn-based actions somewhat differently from classic isometrics (Arcanum, Fallout, etc). The results can be unexpected and crowd-pleasing, anticipating what an opponent might do, not what they have just done. A number of games currently in development are experimenting with combat (Disco Elysium uses a text/story system, while Copper Dreams has a delay effect), so when it comes to creating this aspect of the game, what do you hold as your criteria, and how do you see combat contributing to the larger project goals?
GM: Ah. Holy shit, I'm fascinated by the stuff that Studio Zaum (Za/Um?) and Whalenought Studios are doing with those games. So bloody cool to see original RPGs with non-Tolkien fantasy settings on the market of that quality. People often refer to Odd Gods in the same sentence as those two games, which is a massive compliment. Hopefully, we can live up to that comparison.
Odd Gods' combat system is 'phase-based', which means that your turn and the enemy's turn play out simultaneously. This is technically hard to achieve, which is why you don't see it that often, but when it works.. It's pretty damn cool.
When designing our combat system, I was a bit tired of RTWP and traditional turn-based combat and wanted to roll my own system. I grew up playing wargames with my Dad, which used a kind of simultaneous turn system to simulate 18th century warfare. The thrill of not knowing what your opponent was going to do – but crucially, having some imperfect knowledge – that's at the heart of it. Also – the market is saturated with derivative combat systems that a lot of (very excellent) studios have mastered – Obsidian and Larian spring to mind. I don't want to compete with them, and it's fun to make something new.
There's some design pillars I used.
(I) The major game systems must be in symbiosis with the game theme.
The game's theme is interstitial spaces and cognitive dissonance – design a combat system to match.
(II) Tactical determinism, not randomisation.
Movement should be just as tactical and effective as swinging a weapon. Melee and Ranged combat should be equally deep! No Auto Attacks – every decision counts.
(III) The system must support 'tech imbalance' without resorting to number crunching.
A Roman Legionary should have a chance to take out a Space Marine, but an assault rifle should take down a Knight.
(IV) No RNG.
If you're next to an enemy, and you aim a shotgun, or a blunderbuss, or swing a skateboard at their head – you hit them. Every time. If I've gone to the trouble of flanking an enemy, and I have the requisite skills and weaponry, that's a flank or a backstab.
(V) Don't use 'RPG cliches'.
No bullet sponges. No magic. No potion-chugging. No WOW-derived MMO style combat roles. No 3 bajillion HP.
(VI) Play a role, not a spreadsheet.
Your efficacy in combat is determined by your ability to read the battlefield, your character's equipment, and your character's strengths and weaknesses. Character development still matters, but it's not the primary driver of success. A neophyte can outwit a master, if they're careful, or if the master is arrogant or distracted, or overwhelmed.
EM: Visually, the isometric areas of the game certainly resonate with the '90s feel, whether we're looking out at an open plain or a grungy apartment. When it comes to the many aesthetic/user experience concerns (placement of assets, organic feel, color palette, flow, replay value, etc), how would you describe your creation process and the way the team works to execute a specific level? And as a studio, what does your critique process look like?
GM: The level design team is really just me with wonderful art support, and testing from peers and occasionally friends and family. The creation process is pretty standard I suppose – set out gameplay and narrative design goals and how they fit in the overall world/progression, and iterate on the theme and art to match that. Typically, it starts out with a piece of paper, and my magic box of mismatched miniatures and tabletop RPG/wargame props, then a rough playable layout, then a few iterations of scripting, combat etc. Personally, I like the challenge of kitbashing elements together to make a scene or a world feel cohesive from a limited set of assets, but you still need to plan effectively.
The creation process in general involves a shitload of period research for inspiration. Movies, TV, old catalogues, album covers, anachronistic art, music videos – music videos are great, and given that music plays a big role in the game, lots of just listening to music… Musical structure, logic and rhythm can be good tuning influences, in my opinion. I read a lot, as well, and take a lot of inspiration from China Mieville, Neil Gaiman, the Strugatsky Brothers, Brian Aldiss, Jack Vance, Rudy Rucker, John Shirley, William Gibson, Haruki Murakami (and so on).
The team has a lot of experience, so we use a lot of shorthand in critique. We're also Australian, so we're pretty direct (I've been told). 'Nah, that's shit.' 'Yeah, that rocks'. My personal favourite is 'I like it, but what I would love to see' – tl;dr, if you can build something that gives other people ideas on how to make it sing, or stimulate their imaginations in a way that you couldn't have predicted, *thats* when you know it's good. Same goes for a lot of game design, I'd argue.
EM: While numerous studios have created '80s-looking pixel-art games celebrating that decade's aesthetic, the '90s feels less explored. I've often viewed the '90s as a time of in-between technologies, a transition from analog to digital, from VHS to DVD, years that saw 3d art struggling to emerge. For this reason, some things have stood the test of time, other things haven't. As you've created scenes and looked at changes in everything from clothing styles to technologies, what stands out (besides the aforementioned music and subgenres) as dominant artifacts/parts of life that help capture the historical flavor?
GM: Good question! The 'dominant artifact' as you put it – I think it's a kind of 'quantum crossroads'. We've sort of covered it, but you can make an argument that the 90s is an extreme example of an interstitial space in history, given its temporal position. Sort of like a player at the crux of a branching narrative in an RPG, it's a locus point for cognitive dissonance, if you can forgive the conceit of an anthropomorphic decade… What I look for are contrasts, as opposed to a single colour or tone, if that makes sense. MC Hammer pants and Nirvana all existed in the same era. In a way, the 90s began when the Berlin Wall fell, and ended at 9/11.
Underground rave culture existed as the same time as jazz cups and ubiquitous fast food mascots. In a generation where was televised like some kind of 'militainment', thousands were protesting globalisation and rejecting the mainstream. You had the Spice Girls, Nirvana, Public Enemy, Backstreet Boys. Goths and vampires went mainstream at the same time as valley girl culture. Cinema was no exception. You've got The Matrix, Fight Club, Buffy, Wayne's World and Bill & Ted. You've also got the best RPGs of all time, which doesn't hurt.
EM: As a refugee from the '90s, I note that while telecommunications and electronic devices have made some positive contributions to society, the party bus that reached the year 2000 seems to have gone over the side of a cliff, taking with it the cautious optimism that came with the fall of communism, hopes of progressive political reform, and the notion that I, too, could one day be an astronaut. As you write the game's story, do you focus more on the world that was, or do you see the '90s as a decade of wasted youth failing to anticipate very real socioeconomic and environmental concerns? With respect to writing, how do you block out the game's overall arc, and what pushes the plot/characters along?
GM: I don't have the answers, but I reject the generalisation that the 90s were a period of grungy despair on hand, and 80s-on-steroids commercialism on the other. I think that generation fought for a voice in a time where money could buy a lot more power than it used to – and if history is written by the victors, perhaps there's a lot more to the story of the 90s, and to that of individuals who lived in it or were lost in it.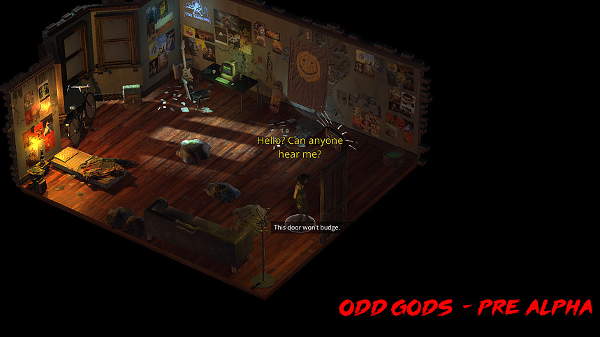 EM: Indie game markets have shifted quite a bit over the last few years; most gamers no longer buy hard copies from brick-and-mortar stores, and the number of titles published each year has exploded. In following, I see your choice to create a 12-16 hour experience as wise, given your position as a smaller studio and the fact that many people who actually remember the '90s don't have 100 hours to invest in a game. That said, as you've brought Odd Gods to events/expos and interacted with audiences via social media, what aspects of gamer culture cut across decades, and assuming a solid response upon release, do you see yourselves creating additional experiences in an episodic way or as as extended downloadable campaigns?
GM: People have responded to Odd Gods in a way I hadn't expected outside of a hardcore niche. We were overwhelmed. Our Indie Megabooth PAX stand was swarmed by people hanging out to play, with queues backing up for hours. We had a heap of interest in the urban fantasy (no elves, no magic swords, no Tolkien) setting, in our vision of the 90s, in the combat, in subcultures, in music genre alignment systems. We turned people away, we had to bring on extra staff, we had people hanging out past closing time to finish the demo (and had to argue with security to let them finish), and a lot of people wanting to buy it right there and then just based on the game premise and the demo. We also had a lot of interest from press and did a bunch of interviews world-wide; one of the Penny Arcade dudes came past to tell us how much he dug the idea, which felt pretty good! We had publishers knocking on our door soon after that. I can't say more about that yet, but we're hoping to go into partnership soon. We'll see how that goes – we're not full-time on this project yet, but I think we've proved the core premise, gameplay, and art style now, and demonstrated a hell of a lot interest, so with some luck and backing, we can hang up our contracting hats and get cracking.
DLC and expansion-wise, I'm a firm believer in delivering significant expansions that feel like expansions. I've worked on enough live service titles to know that players respect quality content delivered with a narrative, and they don't like being 'gamed' by a developer, although they'll tolerate it if they like the game. Spacetime-travel allows us to explore some awesome worlds and timelines, and based on reception at release, or demand for a particular time period, we could hopefully expand the game's content in a big way post-launch.
EM: Your team has worked with an impressive list of titles, developers, and publishers, so at this point in development, how do you see that experience expediting and enriching the project? How does your pipeline benefit, and how do you pivot quickly in addressing new challenges? What kinds of coding/design/implementation skill sets have turned buggy, head-banging moments into solid execution without cursing and the gnashing of teeth? Also, I say mostly in jest, will there be a 486 version of the game?
GM: Wailing and gnashing of teeth is part of the process. Experience can get you far, but so can good principles, teamwork and executing on a theme. We're ridiculously small and just call ourselves a studio to impress people, or to make ourselves feel more important (half serious). I'm a big believer of designing systems on paper, with physical props, deconstructing, and iterating and playing it out first before writing a line of code. To get the combat system right, we did a tonne of experimentation and iteration – deterministic phase-based systems are difficult, or everyone would do 'em.
No 486 version sorry, although it would be cool to see it running 😉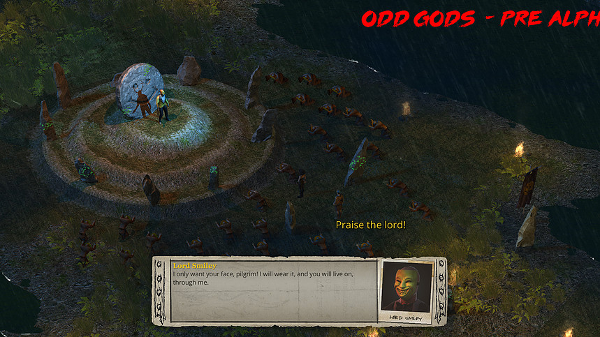 EM: Inn Between Worlds is based in Melbourne, Australia, so I'm interested in the genesis of the studio and the dev culture there. Do you see yourselves operating in a bubble, or has the internet indeed brought everyone together and provided insight/critiques that propel indie studios like yourselves? Similarly, what was the kernel that started Odd Gods as a project, and what has best enabled you as a creative team?
GM: Melbourne is the biggest city for game dev in Australia and has quite a long history developing games for global audiences. The indie scene in Melbourne is ridiculously good – passionate, friendly, communal, and supportive, in a way that other indie communities can be jealous of, as people tend to help each other as opposed to compete for the sake of it. We're also lucky to have an excellent local chapter of the IGDA, which is basically run by a small number of individuals who advocate for us globally and punch well above their weight. Another factor which helps is the vast talent pool. A lot of studios pulled out of Australia during the GFC, or when the dollar got too high, or when the UK and Canada introduced massive tax breaks for developers (which we don't have in Australia). As a result, a lot of people bailed overseas, but not everyone wants to move – so there're whole AAA teams disbanded in Melbourne, working contracts, making indie games, helping each other out. Throw on top of that the new generation of indie devs who kick a lot of arse, frankly, and surpass a lot of us 'veterans' on a frequent basis, which is awesome to see.
The internet helps as well, for sure – I saw how a dedicated remote team can make a game together, when I worked as a writer/tester on Ultima V Lazarus, so long as you have good documentation, communication, and leadership (props to Ian Frazier who ran Lazarus, who's working on a secret project at EA Motive atm I think) – buut that said, there's nothing like actual face-to-face communication. We're like 99% Melbourne devs. Murray Philbrick, who helps out as co-creative director (his experience on Freedom Force, Puzzle Quest, and general design genius and common sense are awesome) is an Australian based in the states, but the rest of us are in Melbourne.
The kernel that started Odd Gods… Tricky. I think I was on holiday in Japan after leaving EA, trying to chill out and immerse myself in the culture and something went 'ding'… I was a lead designer on a few big 'unreleased' RPGs at EA Melbourne (a polite way of saying 'cancelled') and did a few years on a new IP prototyping team, and was lucky enough to work with some really talented people, and crucially, we really liked working together. When enough of us had left EA, I made a few efforts to get the band back together and pitched the project to them, got them on board, built a prototype, and pitched it again to Film Victoria, who run a funding program in Melbourne for promising indie titles. They dug the idea, and we were lucky enough to win a little bit of seed funding from them to get started, and then a bit more to get a demo to PAX Aus last year, over to GDC to have secret publisher talks and help get to this stage. It's corny – but in the end, teamwork and respect has gotten us this far. We know each other well enough for things to not get weird, at least, not weird in a bad way. Weird in a good creative way, for sure.