Interview: Strangers – Awaken's Ryan Kwak
on
May 15, 2019
Strangers – Awaken unites magic-battle-royale sensibilities with an RPG experience, inviting players to brew their own spells across a wide platform base (PC, Mac, Linux, Mobile). With a focus on gamification leading to fast-paced play and a Kickstarter launching, I chatted with Ryan Kwak (CEO and President at Uriverse, Inc.) on his ambitious project goals.
Erik Meyer: You've talked about opening up cities of gameplay and new characters, but how does this fit in with your project's overall narrative arc? Often, it seems like BR and RPG have different goals (fighting versus story), so can you walk me through a play experience and how we get a dose of both?
Ryan Kwak: First of all, this is the first story of an epic Strangers series. Roughly, the order of sequels is as follows: Awaken, Uprising, Survival, Recollection, Invasion, Betrayal, and Independence.
Simply, it is an epic story between "Them" and you. Then, who are "They"?
"With endless power and intelligence, THEY create this city with the same intentions the Romans had when they built the Colosseum. Abducting people from other universes and pitting them against each other, sadistically deriving pleasure from their pain. The pain of separation from their loved ones and the pain of having to kill others pointlessly. THEY said one winner would be returned to their home and this promise is what drove everyone to fight. Everyone fights to be the last soul left in this city. This city is their battleground, death place, and graveyard—yet they are all STRANGERS here.
Freedom is an illusion. Especially here. THEY do return you, but THEY bring you right back to a new city. The cruelty is ingenious. We thought the only true prize was a memory wipe and reinsertion into the city. We never figured out the real prize: every iteration we got stronger. Memory wipes leave memory fragments. Fragments cause Deja Vu. Deja Vu grants the ability to remember. We're starting to realize. This isn't the only city, nor is it the first time we've been here. There's nothing we can do about it… Or is there? If only we could truly AWAKEN."
Yes, there are so many cities and characters. We will reveal one story at a time, which means one city and one or two characters at a time.
It combines the best of BR and RPG. Like RPG games, you need to raise your character levels, unlock parts of a skill tree, complete missions, loot items, and brew your own magic using items, which you will later use during battles. You need to explore secret places by using access tokens. There will be 3 types of tokens, and each type of token can open the door to a different world. You can get these tokens in various ways, with an easy way being winning a battle and being the MVP.
There is one more way to enjoy Strangers – Awaken (SA). Regarding the story, we are not kind enough to tell you the story directly. We will give you pieces and hints, of which you must piece together. Both online and offline, you will find yourself involved in a community of people working together to decipher these meanings.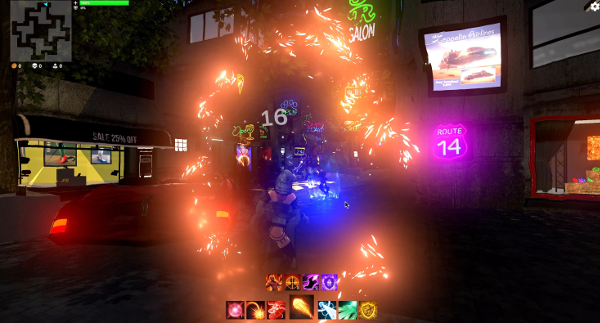 EM: As of now, I see the game has a focus on legacy playability, meaning players can battle across a host of devices, including legacy systems and phones. Describe the audience / market you see yourselves existing within. How do you see yourselves going where others don't?
RK: No, we are not focusing on legacy playability. We are focusing on the ubiquitousness of the highest level of gaming experiences. Gamers can access the best possible gaming experience, graphics, and performance, anywhere and anytime.
There are lots of games which have great quality, but most of this is limited to desktops. Users have to choose between performance and accessibility. You don't need to do this anymore.
SA is a true full cross-platform game, meaning you can play it on a computer, mobile device, or console, but with the same highest quality. Anybody can enjoy our game using their preferred devices—even on reasonably old systems and phones. We are focusing a lot on showing off our mobile version because of the extremely impressive quality and performance we can offer, thanks to our optimization techniques. No battle royale game is currently able to match our level of quality and performance throughout all devices—especially on mobile.
This ubiquitousness is extremely important because we have a plan to expand SA's gaming experience into our life, meaning the real world. I will share more details at the later part of this interview.
EM: Games need interesting mechanics to draw an audience, and the ability to custom design spells creates a certain amount of that; players have had some similar options in other RPGs (Tyranny has custom spells, for example), so where do you see the options you're including forging new ground? And for indie games, how key is the difference between 'never been done before' and 'never been done in this kind of game before'?
RK: We offer a whole new level of magic brewing—generic mechanism.
Brewing magic is just like how living creatures are formed based on their genome. We designed the system exactly like this. Magic items are like nucleotides. Together, they create a chain and a gene, which is magic effects. Genes form a genome, which is your magic you just brewed.
Simply, each magic item will exclusively control an aspect and characteristic of each magic effect. Thus you can freely create (brew) your own magic. If we put a new magic item into our game system, it introduces an exponential amount of new possibilities and combinations.
There will be millions of combinations that we ourselves cannot even think of. But you must bear in mind that just like how each nucleotide complements a specific other nucleotide, (Adenine to Thymine and Cytosine to Guanine), you must learn and experiment to see which magic effects compliment each other the best.
As the game evolves, we will probably open a market to trade your amazing magics.
EM: How do you see gameplay pacing with narrative, and how do you design the interfaces to streamline for story? Similarly, how does the environment play a part? Is this a game in which lore will be experienced via books in the levels, or will we get fully-fleshed-out NPCs with a genuine zest for life?
RK: This game is based on an approximately 150-page storybook I wrote about 10 years ago. Our team members loved the story. However, at that time, we were focused on the project that all our team members were most interested in—Uriverse.
We won't narrate the story. We will only provide clues, of which you must find and decipher properly. You can find them during battles, magic brew, etc. You need to share your findings with the community and help knit the story together. Each magic item and place has a clue for the story. For example, a map on a store, in a city where you battle, can guide you to a secret place. You will always ask yourself if something is there for a reason. Sometimes, a picture on the wall or locations of statues and their numbers will be big clues. The environment is a big clue by itself. All findings must be tracked because we will not provide clues in a timely order.
NPCs will be a part of it, but it is planned only after season 2 begins. We cannot share more on this as of now. It is a secret how NPCs and how the environment will react and evolve through the interactions with players.
As the story goes on, you will be confused about who your real enemy is.
EM: You're a small studio, so can you speak to your ability to pivot and add content? What do you see as your biggest challenges, when it comes to asset creation, and how do you avoid the recycled/grinding feel many indie games come to have? What is it about play that will keep it compelling, and how do you keep your small team size from sinking beneath the weight of your work?
RK: Very good question.
After getting a Ph.D. from Stanford, we founded Uriverse Inc. with fellow Stanford colleagues. Our previous project was Augmented Reality Sticky Note (http://stickyar.com) and it was very promising. It was planning to be featured in two K-drama series on TV, which were extremely popular in Asia. We were about to get funding from the outside, so during the development, I put all my money on this project believing it will get reimbursed soon. Although the dramas were not launched, I supported my team and completed the AR project. Because of the less-than-ideal results of this project, our team is shrinking into just 2 of us.
Yes, currently we are 2. However, we have more than 40+ years of professional experience in this field combined. We know that this may seem too small, even though we have more than enough ability to create the game and expand our team extremely quickly on our own. We both have a very strong network here in Stanford University, Silicon valley, and S. Korea. In addition, I know many CEOs in the gaming industry personally. Some are my good friends for more than 15 years and will help us when we need.
Regarding assets, we are using 3D asset markets. There are millions of AAA quality assets in the markets, but they are very pricey as you might guess. We already have a firm storyline and the concept of the gaming environment. All we need to do now is pick the right one. I personally know PUBG very well, and they built the game exactly like how we are doing now.
As our game evolves, we will hire our own graphic designers and UI designers. As of now, we are planning to hire a 3D graphic designer and UI designer right after the Kickstarter campaign.
Our company focused on gamification from day 1. You can check our previous projects below:
"Uriverse" is like the gamification of Facebook, which visualizes the relation of all information in 3D space based on their coherence, and users can interact with information. Virtually, it creates a universe based on how each subject is closely interconnected. Our system visualizes 1.5 million subjects in less than 100ms based on their relation.
You can check it out here:
"NonChat" is an avatar chatting app. You can interact with avatars in a chatting room, which represent your friends, and they relay your message to your friends.
You can check it out here:
"Genesis" is an Augmented reality SNS, which was used extensively during the impeachment process (former president Park) in S. Korea almost 3 years ago. In S. Korea, we couldn't express our thoughts publicly. So people used our app and put their thoughts on their space or the Blue House (like the white house in the U.S.). If you come visit S. Korea now, you can still see thousands of memos virtually attached to the Blue House or near its streets.
You can check it out here:
EM: As a dev, how would you characterize mobile work versus PC or console platform work; how do player expectations, styles of play, and hardware differences change your process?
RK: Mobile is very tough. Network connectivity issues, memory limitation issues, battery issues, ping issues, thermal throttling issues, CPU performance issues, small screen, etc… Because of these, until now, almost all mobile game performance is way behind that of PC.
If you tried to provide relatively "good quality", then it is a war against optimization and performance. Every moment you need to analyze a performance profile sheet and work hard to find how and where to save performance. Thus, mobile game genres are very limited and user expectations are low. This makes game developers focus on relatively light games.
Our question rises here. What if players can enjoy the same level of gaming experience as on a PC? The answer is simple. They can choose the platform that is the most suitable at a particular moment. You don't need to compromise anything. If you are tired but want to play? Just lay on the bed and play it on your phone. If you prefer an immersive experience? Then play on a desktop.
Thus, we work hard to deliver the same level of gaming experience to players.
We basically use the exact same assets and settings for PC and mobile. If it is not working on mobile, we stop the process and dig into the problem until we find the solution.
EM: You've had some other interesting projects, and I dig http://stickyar.com; how do you see these different endeavors informing your current work? What design principles and work elements carry over?
RK: As said earlier, our team has always focused on gamification from day 1.
We developed many AR applications and we know how the immersive experience is amazing. We have been experiencing through "Genesis" that it actually has power to change the world! We are able to, and are considering linking the game world to our real world. As the game evolves, battle grounds, missions, and magic items can be based on where you are.
It will be a whole new level of gaming experience.
EM: As you look ahead, can you describe your benchmark process? What do you see as big hurdles, and what stands out as soon-to-come must-do moments? Similarly, when you look back at your process, what elements that you initially imagined have you had to leave out?
RK: Our most imminent goal is the successful completion of our Kickstarter campaign. A must-do moment will be the rebuilding of our team, so we may be much more efficient and productive.
At the beginning of development, like other BR and RPG games, we designed it to where all participants used premade spells looted off of the game area. But I thought that providing the ability to brew their own magic would be a great idea. Thus, I redesigned the whole system. It took almost 2 months to complete the new system.
In addition, one of our goals was a self-evolving game system. However, because of time limitation and human resources, I deferred it to Season 2. I researched very hard on artificial intelligence, network, and resource optimization when I was at Stanford University and even got a Ph.D. focusing on this. I guarantee that you will be surprised and shocked when season 2 begins. I've already started to design the system for season 2 and that's the only thing I can share for now.
In case you missed it, here's the trailer: