Interview: Broken Roads' Craig Ritchie
on
October 1, 2019
The upcoming debut title from indie studio Drop Bear Bytes, Broken Roads should draw the interest of any Fallout/Wasteland fans. With gorgeous art and isometric sensibilities steering the conversation, I spoke with Founder & Game Director Craig Ritchie on his post-apocalyptic work and Australian locale.
Erik Meyer: With a visual style that blends Fallout, Wasteland, Shadowrun and (dare I say) Disco Elysium, I see careful attention to a vibrant environment; with clear influence from classic post-apocalyptic titles, how do you design assets and settings as unique while retaining genre-specific conventions (dilapidated buildings, junked vehicles, etc)? How do you maintain your 'playing in concept art' feel?
Craig Ritchie: Thanks – I'm really proud of the work that the team has done on the visuals. Our Art Director, Kerstin Evans, has a fantastic style and a great grasp of the world we're building and has been instrumental in bringing her beautiful, painterly style throughout all the visual elements of the game. While you can't get miles away from the genre giants that you mentioned when it comes to props and environments, there's so much in Western Australia that suits the setting right off the bat – we've taken photos of abandoned places in Western Australia (particularly mining or farming areas that are no longer inhabited) and had one of our Concept Artists, Aimee Correia, put a post-apoc spin on these real locations. Plus, in this kind of setting, you can get inventive and come up with new takes on things, and, hey, the genre is far from exhausted and I think there's plenty room to find a niche within a post-apocalyptic setting. In terms of maintaining the 'playing in concept art' feel, that's just about having a very clear visual target for everything in the game that the artists need to stick to, from characters to textures to 2D props. The latter is where things can get tricky – it's hard to maintain a big brushstroke, painterly style on objects with fine details, such as some of the local plant life and other things that have defined line work, but I think the team have done brilliantly. Plus, we're only in pre-alpha. We have a long way to go before launch, so there is plenty of time to refine the style and find some more tricks that are going to make those complex props fit Kerstin's painterly art style.
EM: You incorporate a morality system that influences dialogue and other in-game actions, thusly rewarding different kinds of play (Utilitarian, Machiavellian, Nihilist, Existentialist). In a practical sense, how did you come up with this system, and what led you to tie specific leanings to unique perks?
CR: I've always been really interested in philosophy and ended up doing 6 years studying the subject in my undergrad and post-graduate time at University. As for Utilitarian etc, I landed on this mix because it covers both morality and attitudes towards being in the world. It's by no means an exhaustive list covering all views – far from it – but they do allow us to have a 360 degree 'compass' where the fringes of each quadrant could arguably be blurring the lines between different moral philosophies. For instance, you could pick a response that's Machiavellian from a certain perspective, but the exact same thing could be seen as a Utilitarian solution to a problem. So in a situation like this, the dialogue choice would be right on the border of the two, and because your philosophical leaning can be anywhere on the 360 degree range, and any degree of commitment from 1-100 from the centre of the compass outwards (we're referring to this as broad- or narrow-mindedness), there are over 35,000 philosophical leanings that a character can have. It also allows us to show how intent vs action can affect your morality, so we might put players in a situation where there is only one course of action, but their approach to it affects their character's philosophical leaning.
Their range of options is called their 'World View' – shown as a highlighted gold area on the compass, and any dialogue choices, quest solutions, and moral traits within their World View are available to them. And this is over and above the skills and abilities in the talent tree – so you can have your pursuits and projects on the one hand, and your quirks and complexities on the other. While talents are generally always positive or open up something new, traits are generally a double-edged sword. For instance, going full nihilist might grant some brutal combat abilities but prevent you from any greater-good dialogue and questing options.
I always felt philosophy was a little underserved in gaming, as there are so many interesting moral dilemmas and thought experiments that can be played out in an RPG if the underlying system allowed for it. I really just wanted to create something that broke away from a light-side/dark-side split, or clear binary good and evil thinking. Even a spectrum between those two extremes doesn't capture the depth and nuance of many situations we can face in our lives.
EM: You've mentioned that the game will include traditional and original RPG mechanics; with a number of titles either streamlining turn-based combat or adding wrinkles (incorporating wait periods, prediction of enemy actions, etc); excluding the previous question, what new options are you bringing to the table, and how do you evaluate satisfying gameplay as a team (combat or otherwise)?
CR: The team are all fans of a range of turn-based strategy, RPG and tactical games, and we know what we love; we play a lot of games and analyse what works and what didn't, and also are fans of tabletop games as well. I also spend a fair amount of time in online communities chatting game design, old-school RPGs, combat annoyances and the like, and one of the things we've decided to do from the outset is add a lot of options and settings. One off the top of my head is speeding up turn-based combat. Of course, devs are going to be proud of their animations and VFX that make their combat look great, but by the time players have sat through the same animation 100 times, they're going to want combat resolution sped up, so we're working that in from the get go.
We're also aware that we're building a niche game for a core audience, and when we're ready, which will be late alpha/early beta development, we'll likely get very open with our community and bring on trusted members in an ongoing closed-beta, taking on feedback where we feel it results in the better game. There's a lot of testing to come – that's where everything is determined. With a small, agile team, we can try a lot of things, fail fast, iterate, improve, throw out what doesn't work, tweak what does.
Drop Bear Bytes' Digital Designer, Tyson Hollitt, influenced inventory management by coming up with a solution that I was resisting at first because I am used to certain old RPG standards, but when he showed his approach, it just worked, so we now have only personal equipped items and a shared party inventory. There's no weight or other restrictions in the party stash, and the stash is inaccessible in combat. Just that alone adds a lot of strategy to making sure your party are equipped with the right weapons, utility items and so on before encounters begin. We got there with open comms, dipping into online forums for feedback and opinions, rapid mock-ups and iteration.
Ultimately, we're still very, very early in development. What you're seeing in the trailer and at PAX Australia is all pre-alpha. After this it's heads down and developing everything until we're satisfied to enter beta in Q2 of 2020.
EM: I've played quite a few amazingly-done tactical RPGs, and I've also played a lot that devolve into grinding and resource management. When it comes to the overall experience, how do you want players to spend most of their time? If we're switching back and forth between narrative, combat, and team-related tasks, what feels like the best balance, and how do you preserve the initial excitement of a fresh boot screen?
CR: Broken Roads is at its core a narrative-driven RPG, so story and adventuring will likely be the majority of the player's experience, with plenty of dialogue and non-combat challenges. I hate grind in my games and we are specifically avoiding that. As it stands right now, there's no random combat and we have an approach to XP distribution that I don't want to go into too much detail right now, but will reward many different play styles. Tyson's put a lot of time into making the UI as intuitive and streamlined as possible so that resource management is not a chore. Again, testing, testing, testing will get us there and we'll have much more to demo when we're satisfied that we're moving from alpha to beta.
EM: Your team includes veterans from a number of name-recognition studios (CCP Games, Riot, Ubisoft, Electronic Arts and Torus Game); along with your experiences with EVE and other titles, how do you see experience within a team complementing fresh blood? What ideas and game elements have come from youthful vigor, and how much comes from seasoned wisdom?
CR: It's a great mix and I am super proud of the team. Samantha Webb, our Narrative Lead, brings her experience (which includes a Masters Degree in game design) to the team and is able to offer great support to our Narrative Designer, Jade Sendek. Jade is a a young writer from Melbourne, who I think has immense talent and will be working on a lot of the quests, locations and characters in the game. Our VFX Artist, Ryan Gee, is an extremely talented young guy who I came across by chance on Twitter. I saw some of his demo reel and it just clicked immediately – I had to have him on the team. Then we've got a Development Director, Jacques Leemans, with 15 years' experience who also used to lecture game design at university. He has pulled off some incredible tricks combining 2D sprites, environments and props in true 3D space, and because he ranks Baldur's Gate as his favourite game of all time, he's had the right vision for Broken Roads from the outset. It really helps when your team members are passionate about the genre and understand genre conventions. You're pushing on as everyone is focused on the same end goals.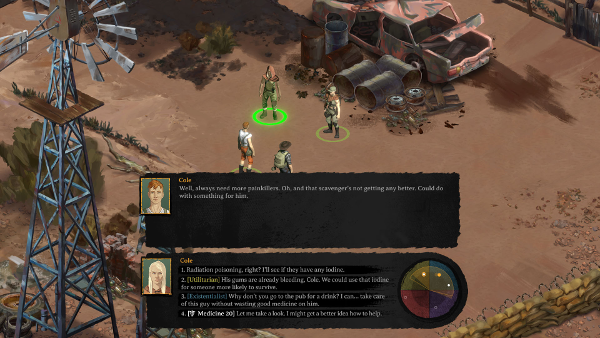 EM: With your local proximity to the Narana Aboriginal Cultural Centre and your studio's connection to people willing to oversee a legit inclusion of Aboriginal characters, how do you see indie games in general faring with respect to cultural sensitivity? In discussions of multiculturalism and historical appropriation, what do you see often getting overlooked, and what does your roadmap look like?
CR: Well, it's a large and sensitive topic and at times it can feel like you're walking a thin tightrope between respect and offense with every decision you make. Anthony Hume, a Cultural Educator at Narana, has been invaluable thus far in terms of being willing to answer questions, offer information and advice, and make some very important introductions. Jade is also of Aboriginal descent and her knowledge and understanding help tremendously when writing authentic and respectful characters and stories. I can't comment too much on indie games in general as I think with cultural sensitivity, it all comes down to individuals within that culture as well: I've had some indigenous Australians advise I just leave Aboriginal content out of the game entirely, and then others giving the polar opposite advice – don't deny their existence through excluding them out of fear of doing it wrong.
I fully believe it's a situation where no matter how hard you work at it, you're going to make some people happy and likely upset others. I've made a commitment to do our best to accurately represent the peoples of the areas where the game is set, and we have support from advisers who we can approach for feedback. For instance, Anthony has already given some really great do's and don'ts that we're adhering to, and, hey, a lot of it just comes down to intent: when deciding between leaving out indigenous people entirely or going with a a sincere, best effort attempt at authentic and respectful representation, I'm choosing the latter.
EM: One of your early images includes camels, and I'd be remiss if I didn't ask how the Australian topography influences your development decisions. Beyond surface details, what kinds of unique and unmistakable elements do you see growing within your universe? Where Fallout draws on the insanity of Cold War paranoia but presents as a 1950s retro-future, what are the foundational concepts in Broken Road?
CR: There are over a million feral camels running around in Australia right now, and these hardy beasts are incredibly well suited to survive in a ravaged, dry future. We also want to have some fun with mutated fauna, local landmarks, and the rich history of the Wheatbelt area as well. I took a trip to West Aus and drove around for three days, taking almost 1,000 photos, meeting the locals, driving off through abandoned farmlands and empty roads, just soaking it all in. There's definitely a unique aesthetic to the place that we're going to work hard at capturing.
EM: I see you're heading to PAX Australia and giving a hands-on demo; as a studio, what thoughts and considerations are you maintaining as you bring your project out into the world? When it comes to social media, the indie community, and the current game climate, what's on your short list of things to do as you make things public?
CR: Coming from a marketing background that's kind of the lens I'm viewing it all through. You have to have all your ducks in a row… your social accounts, reveal trailer, reach out to journalists, and still keep a handle on managing production of the game because our first public hands-on demo is only 10 days after we announce. The indie community, though, I find largely supportive, friendly and encouraging, and even though we're literally direct competitors, we're not out for each other's throats. We'll retweet, support and promote our direct competition, and I don't know too many industries like that. It's a great place to be right now and I am happy that Drop Bear Bytes is now part of it!
In case you missed it, here's the trailer: