Interview: Shardpunk: Verminfall's Slawomir Bryk
on
December 1, 2019
A tactical turn-based steampunk game, Shardpunk: Verminfall drops players into a capital swarming with invaders. Survivors make hay while the sun shines, emerging from an airship to scavenge limited resources, and I chatted with Slawomir Bryk, lead designer and developer, on the nuances of his pixel art, speculative fiction journey.
Erik Meyer: The game takes place during a long siege of the empire's capital; can you expand on the specifics of the steampunk universe you're building? How does the history of the world factor into the overall experience, and what are the defining social institutions driving technology?
Slawomir Bryk: That's an interesting question! I tend to build the lore up as I go, making sure that it fits the needs of gameplay rules. Seems pretty minimalistic, but I need to manage my time in an optimal way – after all, I am working on Shardpunk in my spare time (and I still have a family – wife and two children – to spend time with).
So how does the world look, and how does it relate to the current gameplay rules?
The world is dark and dirty – as I wanted the overall gameplay experience to be grim.
The Empire is in a constant war with the Rat Swarm – as I wanted the player to face vermin-like enemies.
Shards are used as a major source of power – as I wanted to use a gameplay mechanic where the player would not have to worry about bringing ammo for combat. Weapons use shard-powered reactors.
The siege of the Capitol went wrong, and the city is getting flooded with vermin. There is no way out of the city, as the evacuation tunnels have been destroyed.
The Empire does not have any flying machines – except for the prototype stationed in the Capitol (that the player is able to use to escape).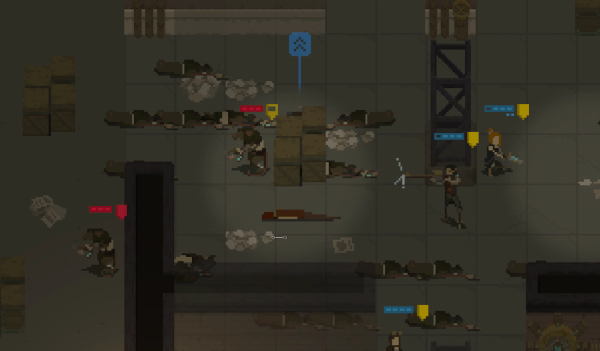 EM: Pixel art gets used in a wide range of styles and content areas, so I'm interested in your views regarding the visual medium. What is it about pixel art that catches the eye so well, and how do you see this particular style drawing people in?
SB: I am pretty sure it's about its vagueness. Pixel art is not aiming to create hyper-realistic experiences; it's basically a contradiction of photorealism. I believe that this way of presenting things to the players allows them to engage their imaginations more.
EM: You reference Darkest Dungeon and XCOM as influences; when it comes to turn-based tactical combat, what mechanics do you see as key to keeping play interesting, and where do you see older titles coming up a bit short? As devs, how do you balance the need to have parity and challenging fights with the need to keep larger battles from slowing down and losing excitement?
SB: Yeah, I spent a lot of time playing Darkest Dungeon and the latest XCOM games, and I liked different aspects of both.
I fancy the approach XCOM has to combat. The cover/flanking mechanics are somewhat simple but generate a lot of gameplay options and plenty of cool moments.
Darkest Dungeon, on the other hand, has a great atmosphere of hopelessness. This, combined with the stress/quirks mechanism creates a very deep experience. I mean, XCOM has negative traits, as well, but I believe it is not using them to their full potential.
I wanted to combine these two pieces together – that's how the idea for Shardpunk started.
The problem I had with the late game of XCOM is that the player becomes very overpowered, and the thrill of always being under pressure is gone. I really wanted the "hopeless" vibe to be present in the game. The best example of this is the board game "Pandemic", which I played a lot. In most of the playthroughs, I was never entirely sure (all the way to the end of the game) whether I would be able to pull off the strategy I was aiming to achieve. Such thrilling and tense gameplay is something that got me going.
That being said, this does not mean that the game should be unfair or prevent the player from creating any kind of plan. I don't like frantic gameplay – I just want the game to mess my plan up a little from time to time so that I don't feel too confident that I will be able to make it.
What is more, there are moments in Shardpunk when the player can feel overpowered – for example, when they manage to kill off a large chunk of attacking rats by some good positioning of characters and/or using some AOE attacks. These moments are necessary but will not appear too often. I definitely do not want the players to feel like everything is going according to their plans.
EM: The game places characters more in the roles of scavengers than in the roles of global mercs; whether with regard to using the airship as a hub, looting bodies, or having a sanity system, how do you see the idea of scarcity as an intriguing theme in your work?
SB: Such an approach enforces the "hopeless" vibe of the game. The player will struggle with having not enough supplies, which will force them to make difficult choices: which character should receive a daily food ration? Should we keep that one mentally unstable character on the airship, risking scenarios that might cause more harm than good, or should we leave people behind?
EM: Can you walk me through an example of your mental attention to detail in level design? As you lay out physical structures, what kinds of decisions do you make about the locations of enemies, loot, and area objectives (while maintaining a level of randomization)?
SB: The maps in Shardpunk are (well, will be, as the tech demo did not have this feature built-in) semi-random. I am creating small chunks of the map manually, which are then randomly stitched together. The most important thing is making sure that the levels do not require the player to do any backtracking (think dead-end corridors). Also, the way loot and enemies are located is not random. If there are more enemies around, there are better items to be found. I tend to use the risk-reward mechanics very often in the game, and here it is also the case.
EM: The Rat Swarm constitutes the enemies invading the city, so when it comes to ideologies and indoctrinated antagonists, what should players expect? Is this a world of fanatics committing arson, or can we expect to find industrialists pulling the strings from Gilded Age mansions?
SB: The idea is that the Rat Swarm will be the ultimate evil in the game. That being said, it might be that the reason behind the siege of the Capitol becoming a disaster holds some mysteries.
I had many different views on how the story should unfold. As I mentioned before, I am a fan of the "gameplay first, lore second" approach – that's why I am holding off on the creation of main plot missions until the very last moment as I want to see what kind of gameplay features I will have at my disposal.
EM: Development environments matter, so can you describe yours? You're using Unity for the game; what do you see as its strengths as opposed to Gamemaker or Godot? Similarly, what programs do you use to best streamline your creation of assets?
SB: I started using Unity because I have a lot of experience in C# (I currently work as a full-time developer), and that was my main reason for picking it. I also love its modular approach to handling game objects.
As for the creation of assets: most of the game graphics were created by freelancers who use Aseprite as their main tool. I also fancy this piece of software a lot and I believe it is one of the best editors for pixel art.
I mix sound effects in Audacity. It's a nice, open-source free thing. I tried some paid sound editing software and couldn't get along with any of them.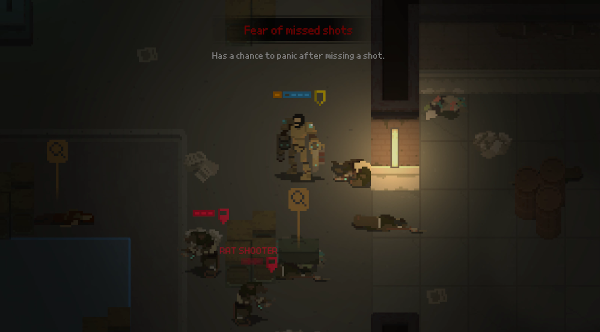 EM: Given the nature of small-studio indie development, what do your next few months look like? What kinds of feedback have you been getting from the demo, and how is that working its way into your efforts? What are the biggest benchmarks on the horizon?
SB: The sole fact that I have released the demo and received valuable feedback is a blast for me. It feels great that, after putting so much effort into the last one-and-a-half years, there are people out there who have played my game and spend their time sharing thoughts on it.
Based on the feedback, I was able to identify the strong and weak points of gameplay, and I've come up with a plan for the upcoming months. This includes adding the basics of the strategy layer (ship management, map travel), making some quality of life improvements (which includes making negative quirks less frustrating), adding new enemy types and putting more emphasis on the vermin killing part (basically making it even more "juicy", both visually and audibly).
I can't say when that second tech demo will be coming out, but it will definitely be in 2020 – hopefully before Q2. Bear in mind that this is still a side-project; I do aim to go full indie with it in the future, but it will take time.
As for the benchmarks: right now I need to pay attention to whether people are interested in the game. Luckily, the game has a Steam page running, so I will be able to collect wishlists. This, combined with tracking the number of my Twitter followers, should be enough for me to keep going. Sometimes it is hard to work on a project alone, and the knowledge that there are other people interested in the stuff that I am doing helps a lot.
In case you missed it, here's the trailer: