Interview: Prisma Light's Jonathan Lima
on
August 26, 2020
A pixel art ARPG with platformer elements, Graphipix's Prisma Light continues the expansion of 2D games celebrating childhood adventure and  mysterious foes sporting unusual abilities. I chatted with developer Jonathan Lima to learn how his work moves beyond its influences and into a world of its own.
Erik Meyer: Prisma Light's visual style strikes me as a mix of Hyper Light Drifter and Crossing Souls; beneath the surface, what guides the gamefeel and the overall placement of elements? With your focus on youthful exploration, what experiences would you compare your project to?
Jonathan Lima: Both HLD and Crossing Souls have inspired Prisma Light's art style and gamefeel, although I added more influences into the mix right after the debut trailer release. The gamefeel, for example, is not a fixed idea; I mean, I'm always looking for new references to improve the game and bring the best 'formula' to the table. On the other hand, the overall placement of elements reflects two fundamental ideas: The hero's journey and its mythological structure, and the psychological effects of architecture, spaces, symbols, etc. I'd compare my project experiences to what inspired Mr. Miyamoto when he created the first Zelda; I draw from the connection between childhood and nature. Prisma Light is a childhood tale with magical elements.
EM: Mysterious technologies and secret machinations creep into a lot of pixel art games, so – without giving any major plot elements away – what kinds of themes are players likely to run up against? Are we talking time dilations, aliens, rogue AIs, or some altogether different forms of evil?
JL: Since the game's theme revolves around mythological evil, players will experience a game that mixes fiction with down-to-earth elements. The environments, for example, mimic more modern architecture, not unlike Crossing Souls, but it still retains those fantastical elements with the magic, swords, lasers, and monsters. Yup! There is time dilation! It will play an important role in the adventure.
EM: When it comes to locations, characters, and writing merging via level design, how do you generally start the process, and which things come after the fact? For example, do you visually design a location and then write the story of who occupies that space, do you start with a character, write a backstory , and then design a dwelling, or do you simply lead with plot, filling things in along the way?
JL: My creative process involves a little bit of everything you've mentioned before. But there is a core process that helps me come up with ideas to create meaningful locations and elements. I always start my creative process with a question: 'Where am I in the game's plot?' The hero's journey helps me answer that question. So, once I know where the player is, it's easy to create elements that match that place/space.
EM: With the inclusion of a dog companion, childhood friends, and a tree house, Prisma Light checks the boxes of a youthful coming-of-age adventure; with those elements in mind, what parts of being a 12-year-old boy chasing danger will surprise players? What mechanics or interactions defy the genre?
JL: Players can expect the walkie talkie to be the surprising element in the game. I mean, the world is designed to contain an expressive variety of secrets and hidden stories. We will be able to compare what happens to a place/NPC in different perspectives. Walkie talkie plus exploration is the surprising key. I consider Prisma Light an ARPG with platform elements.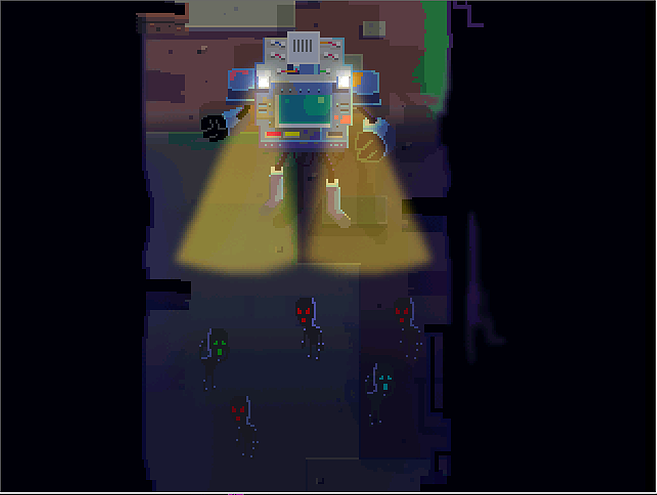 EM: Great pixel art games do a lot of small things right, like autoloading from the last save point when characters die (in boss fights, for example) or maintaining smooth transitions between scenes while maintaining well-paced dialogue. What kinds of small details have you given a great deal of thought to in the interest of a smoother gamefeel, and how do you see the overall experience benefiting?
JL: No doubt it's the animation. I mean, humans are visual creatures. For that reason, I believe good animations are responsible for communicating the gamefeel to the player.
EM: When it comes to old-school, 16-bit games, what do you see the classics (games like Phantasy Star III: Generations of Doom or The Legend of Zelda: A Link to the Past) doing well, and where do you see current pixel art games pushing things further?
JL: As a 90's kid, I used to play those classic retro games all day long. I'm pretty happy about retro games doing well. I mean, in my opinion, those games still an excellent source/reference of how to create good games. I'm pretty sure that pixel art games will push on to explore the realm between 2D and 3D games. There are a lot of limitations and boundaries to be explored in that direction.
EM: I've interviewed a number of indie devs from Brazil, so I'm curious about your take on the dev community there; do you see location playing a role in your work? What kinds of institutional help and support exist for you, and on the local level, what does your network look like?
JL: Thanks for voicing support for the Brazilian dev community. Regarding location, in my opinion, it's not so important. I mean, for the most part, the game dev community and its activities are more present on the internet. When it comes to game conferences, fortunately, there are a decent number of events down here. On the other hand, institutional help and support for game developers remains insufficient. It's not a good idea to depend on the government to create games down here.
EM: Indie projects (in my experience) tend to evolve as they go along, with the final product often looking quite a bit different than its humble concept art beginnings. What kernel started Prisma Light, and as you've gone along, how has it evolved?
JL: Prisma Light started as a vague idea of mixing HLD, Zelda, and Miyazaki's art style into a childhood adventure. The initial idea was indeed humble, but it evolved as I studied game development. I mean, level design, game progression, gamefeel, etc all became richer. Although it might sound a boring topic, studying game design (in my experience) is the number one requirement to effectively develop a game.
In case you missed it, here's the trailer: