Interview: Derelict Void's Irene Cabrejas
on
December 3, 2020
Derelict Void stands out as a space-based Rogue-lite survival experience, and players find themselves scavenging, struggling against all odds in the uncharted depths of space; with a Kickstarter in full swing, I chatted with Stirling Games' Irene Cabrejas on the finer points of the project.
Erik Meyer: As noted, Derelict Void begins as a space scavenge/survival situation and evolves into a colony management scenario. Where did the kernel for this idea originate, and what did the early versions of the project (after the game jam) look like?
Irene Cabrejas: Derelict Void was born during the DK30 event of October 2019 on the Day9 community . It draws inspiration from supply management games like Surviving Mars, Oxygen Not Included and FTL. Our initial game jam actually made something radically different from what we have now: a vehicle-based puzzle game. Later, the first prototypes we built were to test out the general feel of some parts of the game. Visually, we had built an initial set of models for both buildings and hulls. However, the biggest difference is within the guts of the code. Almost all systems have been refactored since.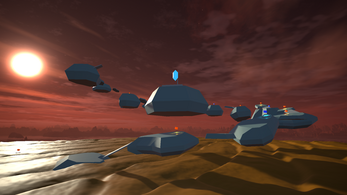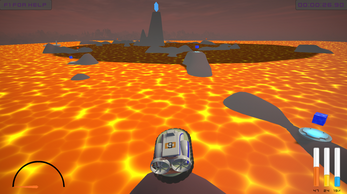 Picture of the first DK30 event.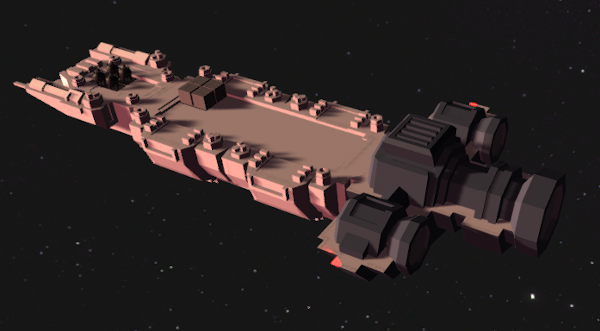 First prototype of the hull and the engine that appear now on the game.
EM: I notice you're packaging a content editor with the game to allow players to bring their own stories to the project; how do you see user-created content playing a role in the larger indie dev scene, and what kinds of experiences do you hope to foster?
IC: I think that while modding is a whole bunch more effort for the devs to make work, it's a great way to build a community around your game and enable the player to have a more personalized experience. Who did not wish they could have some additional buildings or options in their favorite game, or play on an even bigger map. Derelict Void will allow players to add new buildings, larger hulls, and their own encounters and storylines to the game.
EM: Within the sci-fi genre, physical assets and effects play a huge role, so how would you encapsulate your art direction and overall visual philosophy with the ships and the universe you drop players into?
IC: Our art style tries to place itself in a spectrum ranging from high tech sci-fi like Star Trek to a derelict, rusty look (for example Borderlands). We are trying to go for a very realistic science fiction, so we have constant references from the ISS station and several modules and engines. For some of the last assets, we are planning on taking our art direction towards a more alien look to reinforce the feeling that you are in a strange, unfamiliar place.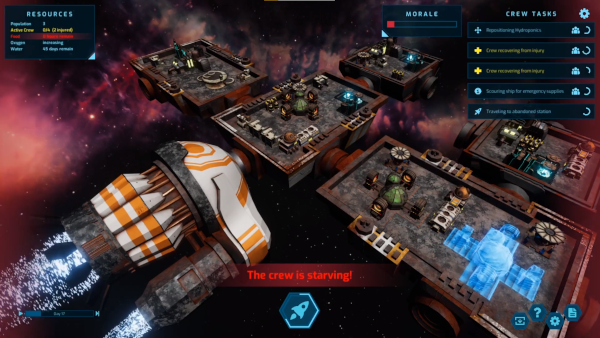 EM: Your Kickstarter page notes that key decisions – gambles – may pay off or hurt the player in the long run. Scavenge missions might go awry, or rescuing too many people could lead to shortages down the road. How do you balance these gameplay moments, and how do you make sure 'luck' feels rewarding?
IC: Balancing a complex system is challenging. We can create some simple models that can help us guess at what frequencies things might occur and what magnitude of reward or hazard, but this can only go so far. Ultimately, it comes down to grinding it out and seeing what feels right. Luck should play a role in it, but what dictates if you make it or not should be your decision making.
EM: Within gameplay, the balance of things to keep track of and systems to engage with can make for tricky variables, especially when the goal is maintaining excitement. As there are a lot of things that can go wrong in space – and many triumphs to be had – how have you avoided feature/content creep while developing the project?
IC: Feature creep is certainly a very big issue for most game projects. Luckily, we've managed to set ourselves deadlines and do a lot of planning as to what systems are feasible and what systems aren't. It is very tempting for additional ideas to make it into things you're designing. For now, we are very focused with our release version in mind. As you mentioned, a lot of things can happen in space, so we do have an ongoing list of things to do after we iron out the initial game design. Maybe if we have some extra time, we can sneak in some of the things we had to leave behind along the way.
EM: The project started as a game jam, so tell me about that experience. Where do you see a small team as advantageous, and where did you struggle? As a larger question, what role have game jams played in your lives as devs?
IC: The game jam was actually a previous project, but since we were all very inexperienced at the time, it gave us some really good insights into game development and made us decide to tackle a slightly bigger project together. Maybe we went a bit overboard. Since then, we've all been very busy with Derelict Void, but I think in the future all of us would be happy to participate in game jams again. It's a great way to do something else aside from the really big projects and evaluate the skills and dynamics of the people you work with.
EM: Games – like music – can say a little with a lot or a lot with a little; some speculative fiction set in space makes it appear to be teeming with life, while other iterations focus on the vast emptiness. What kinds of narrative elements and game moments help make your experience profound, and on the spectrum of vast/teeming, where do you stand?
IC: We are definitely leaning into a vast, empty feeling for our game. Music is done in a very subtle way as to not overwhelm the senses and convey an atmosphere of being far from safe or familiar places. There are certain moments where you have to make hard decisions, such as letting go of valuable resources to save people or even letting go of people to save the ship. Some of these decisions would have the player stand in a moral gray area where you could choose to view people either as a resource or as precious irreplaceable life.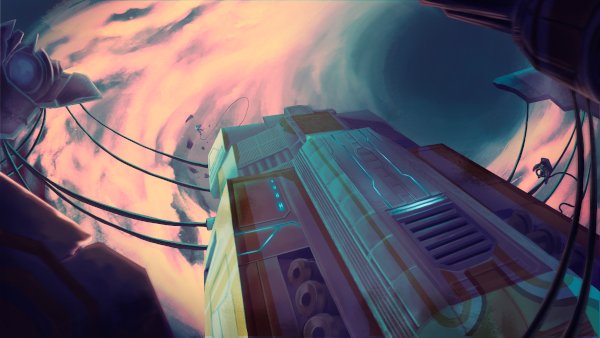 EM: As noted, you currently have a live crowdfunding campaign. Between media engagements, press releases, interviews, and events, what has brought the most helpful feedback? What has gotten the biggest response, and where has your community surprised you?
IC: Being showcased on Day[9]'s Day Knight 30-Day Project Review stream probably elicited the biggest response. Also, it was a special moment for us, since Stirling Games and Derelict Void would not have existed in the way we are without Day[9], the Day Knights (Day[9]'s fanbase) and the 30-Day Projects (where we did our first game jam). We also found that our Discord community has provided us with valuable feedback that is helping constantly to improve the game.
In case you missed it, here's the trailer: