Interview: Neptune Flux's Nick Pettit
on
August 21, 2017
Neptune Flux released in 2016 on Steam, expanding to the PS4 on August 8, 2017. As an indie game of narrative via sea floor exploration and discovery, it has drawn comparisons to Bioshock, in terms of fluid gameplay and presentation, albeit from the point of view of a submersible craft piloted by the protagonist. I chatted with developer Nick Pettit on his project, noting various gameplay elements and design challenges.
Erik Meyer: Players take on the role of Sarah, who has recently returned to an undersea salvage operation, and we quickly learn that her mother disappeared in the not-so-distant past. Given the different assets that constitute Neptune Flux, what drove the plot of the game? Was this a case of an environment with a few must-have 3D models leading to a compelling script, or did the writing prompt the careful placement of locations and discoveries?
Nick Pettit: Everything started with the story and game design. One of the main reasons I chose the setting of the deep sea was because it offered a stage for many different possibilities; lost wreck sites, spaceships, supernatural artifacts, and so forth. Once the major story beats and gameplay elements were coming together, I started working on the art for each wreck site.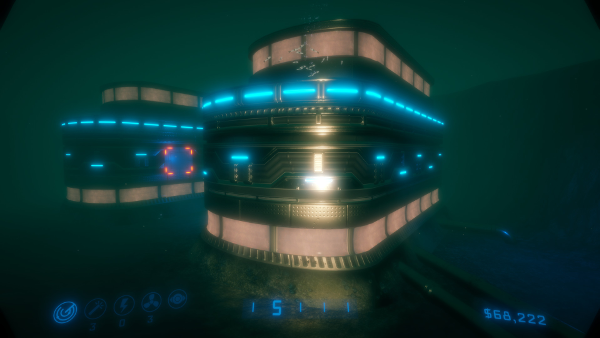 EM: The game can be enjoyed via traditional gaming rigs or consoles but also in VR, so I'm curious as to what added dimensions you see VR adding to the experience. Additionally, what do you see as key must-do and must-don't elements of developing for the VR market, given the current state of things?
NP: VR adds a strong sense of immersion and isolation, because you're cut off from the real world. I wanted the player to feel like they're taking on the role of Sarah and experience the same emotions she's feeling.
There's a huge list of things to consider when developing a VR title. One of the most important is designing locomotion that doesn't make the player sick. I spent a lot of time optimizing the movement and design of the submersible so that the player feels comfortable in VR.
EM: The in-game HUD gives us key information like money collected, cardinal directions, and other elements, like sonar. From a UI/UX perspective, what is your design philosophy when displaying information for the player?
NP: I wanted the UI to feel like it was a part of the sub. I didn't want arbitrary notifications or gameplay elements that didn't feel a part of the story world. The UI that you see, for the most part, is the same UI that Sarah would see.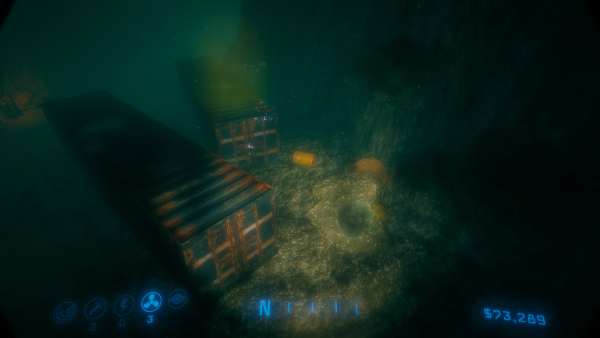 EM: The gameplay has an appropriate fluidity. Let's peek backstage a bit; describe the sound, movement controller, lighting, and other choices your team made that help us *believe* we're at the bottom of the ocean.
NP: I spent a lot of time adjusting the movement speed of the sub. Too slow felt boring, but too fast takes away from the introspective pacing of the story. The music supports this feeling and pacing quite substantially, and without Chris Zabriskie's amazing soundtrack, I think the game would have felt completely different.
EM: You have a small team at Zoxide Games, so describe your process as a developer. Step me through your implementation of an idea; how do you coordinate, and how have you laid out the workflow?
NP: Zoxide Games is just me, but I still have to allocate my time appropriately. A lot of that comes from making early scoping decisions. For example, the game features no humanoids or complex character animations. That was something that I knew I wouldn't be able to accomplish, so I designed the game around that limitation.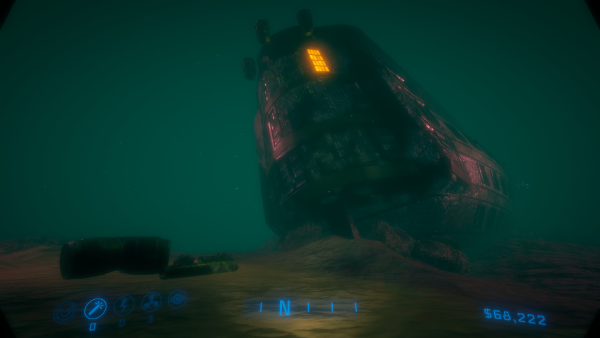 EM: Without giving too much away, the game provides for some unlikely discoveries, so as you've paced the experience and balanced the options available to players, what guides your content decisions?
NP: Everything is driven by the story. There's a variety of different wreck sites in the game, but the story ties them all together; there's a common theme among them all that starts to emerge as players find each site.
EM: Sarah works for A.Q.U.A., a corporation tasked with providing for a hellish dystopian society that is mentioned in the game but largely not shown. Give us some background on the lore/universe you've created for Neptune Flux, because I feel like we're only seeing the tip of the iceberg.
NP: I'm a big fan of the Fallout series and anything post apocalyptic; it's a great template for stories because almost anything can be made believable. In Neptune Flux, A.Q.U.A. is one of several companies that have been contracted by world governments to colonize the deep sea, because it's the last ecosystem that hasn't been destroyed by war or climate change. Early on, I thought it might be interesting to have these companies competing against one another, but ultimately I cut that out, because it took away from the feelings of isolation.
EM: The game is being released for multiple platforms, so what kinds of challenges have come with the different hardware/software/communities engaging with different versions of the project? Also, as you look ahead, do you mainly see content expansion and support, or are there new projects coming into view?
NP: It was a huge challenge to create a consistent experience on PC, Mac, Oculus Rift, HTC Vive, PlayStation 4, and PS VR. All of them have different technical requirements, but they also all have different audiences, marketplaces, and consumer expectations. The most difficult part was simply testing. Any time I would make big changes, I had to make sure that all the different experiences stayed in sync with one another, and that I didn't introduce any new bugs.
Right now I don't have any plans to expand on Neptune Flux – I told the story I wanted to tell, and my sights are set on new projects in VR and AR. Nothing to announce right now, but I'm looking forward to the future!
In case you missed it, here's the trailer: