Interview: Terminal Conflict's Gellert Keresztes
on
February 21, 2019
A game of Cold War strategy, Terminal Conflict puts players in a digital chair guiding global high-stakes power struggles. A blend of history and tactical management, the game's console aesthetic evokes retro charm, and I chatted with Gellert Keresztes, Lead Game Designer at Strategy Mill; note the early access status on Steam or join them on Discord.
Erik Meyer: In its examination of the Cold War, Terminal Conflict does something indie games excel at: it creates a unique mood that feels genuine, drawing upon the rich history and personalities of yesteryear. As you built the game's interface and the subsequent tasks that keep players busy during the experience, what main mood/design goals did you stick to?
Gellert Keresztes: Decision-making is the key in making Cold War history come alive. Our aspiration is to put power into your hands and let you assert your leadership and that feeling of having the world at your fingertips. To recreate what it must have been like to be a leader of a superpower at the time, the CRT terminals, the excitement about new ideas and optimism following a terrible world war, coupled with fear and crippling paranoia about intentions of a newfound atomic age. This is where you decide the direction the world will head into, playing with political, military, diplomacy and other stately tools to sway the strategic tit-for-tat on the brink of mutual assured destruction. We give you access to systems that mimic or closely mirror those of the past. A retro computer realism fought on phosphorous terminals with blips, fluo text, and the potential for ballistic missiles tracers traveling the world, blooming out in a tapestry of apocalyptic doom.
(Above) – A world without NATO, 1970s Western Europe. Iceland, the western part of Central Europe, and Greece have become warzones where the two superpowers wage battle, and the USA is increasingly losing control. The normally neutral Sweden-Finland is now a major base of operations for Soviet armed forces. Enver Hoxha is waiting to take power in the Yugoslav-Albanian Zone while the line is held for the free world by de Gaulle and 'Supermac' Macmillan.
EM: M.I.R.V.I.N. (Mainframe Intelligence Remote Vector Identity Network) flavors the game, including context for interactions and audio renditions of text; if the map information and in-game events were simply presented with text, the experience would likely feel flat, so how did you arrive at M.I.R.V.I.N. as devs, and how did you decide upon this specific iteration of guided narration?
GK: Every dark corner in the world has some flicker of light. M.I.R.V.I.N. has seen and heard all of humanities worst impulses and yet believes in the betterment of ourselves. It is something we can easily forget. The Cold War doesn't have to be the end of humanity, though we might come close; ultimately, we can conquer our fears and show that when we commit, we are better at cooperation than conflict. He is therefore that flicker of light to remind us, in case we lose sight of it, what makes us, and by some extension also an AI we created, human.
EM: Given that the Cold War played out the way it did, what challenges come with using countries, people, and events that correspond to real-world history? When it comes to period technology, cultural shifts, and covert tactics/strategies, what development hurdles come with staying true to the post-WWII era yet allowing for radical developments?
GK: Real world history, especially when it is recent, is a challenge we relish. Bringing together a team of industry veteran history buffs, we love the opportunity to tell the story of a conflict that so recently changed perceptions and shaped our current world. We did a lot of research, and we went beyond the usual protagonists to try to make justice of a period that has so many nuances and different takes. From the get go, we decided not to judge history but present what is plausible and let you decide what is defensible…and it spawned the entire world, no exceptions. Radical developments are allowed in the game through the Space Race, where you gain prestige on the world stage, and the Doomsday Clock, where you control nuclear tension. Through these mechanics, you can radically change developments, and the more skilled you get, the more you will be able to leverage every single decision to its full potential.
Our approach is academic in detail, with serious fact-finding, unbiased sources, and plausible outcomes. As a matter of fact, despite only being in Early Access, we have been contacted and are embarking on a collaboration with schools in Norway for the use of Terminal Conflict in teaching! We are thrilled by this prospect and honored to be a partial contributor to students understanding of our past, present, and possible shared future.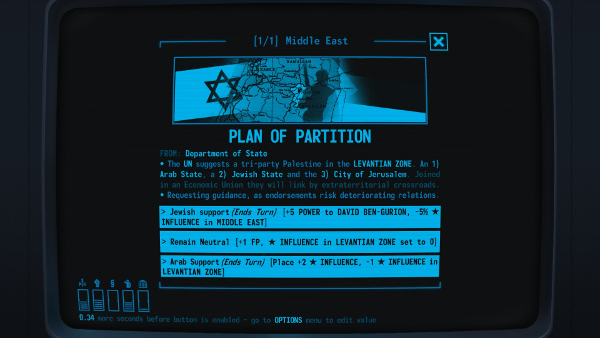 (Above) – Plan of Partition, with the British Mandate collapsing in Palestine, a focus on the Middle East leads the US and the USSR having to make a decision on whom to support. The fate of the many hang in the balance.
EM: You've noted on Twitter that Terminal Conflict draws from paper map and plastic soldier versions, incorporating mechanics like rounds, resource management, etc; in the many iterations of strategy titles that have emerged since pioneers like Nuclear War, where do you see board games heading, and as you're able to automate the experience, how do you see the electronic medium expanding the genre?
GK: Who doesn't remember their favorite board game from when they were kids? Be it complex like chess or go, or simply scribbled tic-tac-toe in the back of a book. It's a very important source of inspiration and they should definitely be used more extensively and most importantly, acknowledged for their influence on overall cultural values.
This is a golden age for board games; just look at some of the best products that run the edge between simulation and strategy. From Ticket to Ride to Through the Ages, to Twilight Struggle, a favorite of many and only the most famous example; the entire COIN series from GMT is a very interesting take on historically plausible games. Not to mention games like Axis and Allies, Cataclysm and Triumph and Tragedy…some of their mechanics are pure genius as they have the power to convey the theme while still providing fun and challenging decisions. Videogames have the added benefit of eliminating any heavy housekeeping, saving some shelf space, and adding production values in ingenious ways to narrate stories…it is a match made in heaven!
EM: In the late '90s and early '00s, many people came to view the Soviet era as a stalemate that was quickly to be forgotten, but in the current geopolitical climate, sabre-rattling and nuclear machismo make games like yours more relevant than ever; do you see your project strictly as commenting on the lessons/challenges of the past, or do you feel the present finding its way into your work, as well?
GK: We would love to extend a welcome to all administrations, from West to East, to use Terminal Conflict for better decision making. The recent Korea 'shenanigans', coupled with the potential end of the Intermediate-Range Nuclear Forces Treaty are a clear symptom that there should be a refocus of our attention, that the end of the Soviet era did not bring about the end of history. The combination of human fallibility and nuclear weapons is a danger that persists and a challenge that is in all of our interests to continue to adhere to.
Reciprocal assured destruction is a tool of the past, one inhabited by corrosive hostilities between ideologies and nationalistic hatred; this cannot be our future, and one way to deliver this message is by showing where spirals of events, actions, and reactions can lead.
We wish and hope for nothing better than Terminal Conflict finding its way into a museum, as a performative artistic installation of a bygone era where the challenges it holds have all been conquered.
(Above) – Description of the Grand Campaign, currently in production.
EM: The game's HUD keeps players well-informed about resources, units, zones, doomsday, and so on; where seasoned veterans might be put off by too much hand-holding, newcomers often balk at difficult, punishing choices. When it comes to the learning curve of a strategy game, how do you see the balance between easy to pick up versus satisfying complexity?
GK: We pride ourselves on creating deep and challenging games, and this is a very important question and the subject of our current work. With the game being largely features-complete, Terminal Conflict has many layers to explore, as it allows for potentially infinite amounts of plans for actions. This is why we are focusing on the production of the Grand Campaign. It is a story mode in which the elements of the game are gradually introduced so you can explore the Cold War and learn about each separate mechanic increasing accessibility and gain in the understanding of cause-effect relationships to make use of in your strategy.
Outside of the game, we're proud of our expanding community, as we actively promote gameplay videos by gamers, YouTubers and Twitch Streamers. There is a wonderful series Strategy Guide recently started by our friend and YouTube extraordinaire, OneProudBavarian.
We also have a reference guide in the form of a Wikipedia page at:
http://terminalconflict.wikia.com/wiki/Terminalconflict_Wiki
EM: Retro electronics and operating systems bring a unique appeal, notably used in the Fallout Pip-Boy, yet the interface makes the user the architect of events, much as players of Orwell collect information and make decisions as a hand of the state. How much do you see the format acting as a hook to draw players into the web of information and play?
GK: Fire up your CRT screens, as we are passionate for retro computer aesthetics and are honored by your comparison to the magnificent implementation of it in the Fallout series. The aim is to get the best of two worlds: the allure of the retro aesthetic and the functionality of interface design. Beyond the look, you have everything you would expect: reactive tooltips, clean information presentation, and of course matching blips and blops. It's easy to forget that the magnificent sound and soundtracks play an equal role in making it all come alive.
Share our passion; we might be drawn in by the retro computer terminals, but we stay for the strategy. And on top of that, we just love to quote popular culture (Wargames, the movie, being an obvious inspiration for the game).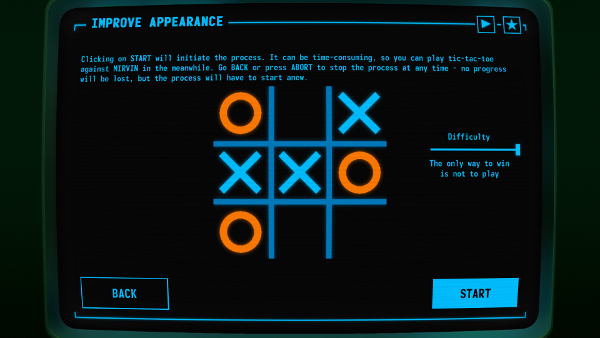 (Above) – To improve the appearance of the files you create in the editor, you can sit back and enjoy a nice game of Tic-Tac-Toe.
EM: In remembering human history, we tend to focus on memorable actors (General Curtis LeMay, Chairman Mao, Pol Pot) and high stakes (atomic bombs, failed policies, tide-turning battles). How do you see the 20th century reflecting on the human condition? And as gamers examine the possible outcomes of the superpower chess match, where do you hope to guide them?
GK: What might at first be obvious but is easily forgotten is how resilient human beings are. Woodrow Wilson, at the end of World War I, talked about the war to end all wars. An idea built on the premise that wars would with technology become so terrible and devastating that humanity would refrain from them. Prior to the Cold War, this was proven untrue, resulting in massive, direct, all-out conflicts between nations, and as devastating as they might have been, they never threatened our existence. Terminal Conflict is the story of our attempt to settle our differences and resolve our conflicts, as with nuclear weapons, there are no second chances.
In case you missed it, here's the trailer: