Interview: The Darkside Detective Development Team
on
September 1, 2017
In The Darkside Detective, a classic adventure pixel art game by Spooky Doorway, players journey through a series of mysteries in Twin Lakes City. With a playable demo available and hype for the game growing, I chatted with the team on their project and its dark humor.
Erik Meyer: Players experience the game as supernatural investigations conducted by Detective McQueen and Officer Dooley in a point-and-click environment. Given the catalog of Cthulhu, noire, and other titles that already exist, what are you adding to The Darkside Detective as developers to make the playing experience new and novel?
DD: Those themes are certainly the backdrop, but we think the humour we've brought to the world of Twin Lakes City helps to make The Darkside Detective stand out from the crowd. Dooley and McQueen face the gritty streets and vistas of insanity with a punchline rather than terror. It's a streamlined experience, too, made for quick play sessions. We want you to have a good time instead of a grueling one.
EM: While pixel art gets used a lot in indie games, color palettes, effects, and overall styles vary a great deal (Hyper Light Drifter, Children of Morta, and LISA come to mind as contrasts). I'm interested in your philosophy behind the visuals in the project; what do you have as goals and criteria, and how do you decide when a particular asset accomplishes everything it needs to?
Paul Conway: I generally try to decide on an art style which is the most evocative or atmospheric for a game. I believe pixel art shouldn't automatically be the default art for indie games and should only be employed when it's the right style for a game's theme or design. In the case of the Darkside Detective, the low resolution pixel art worked because it evoked the nostalgic themes we were playing with. The art style came about in its game jam origins because it was quick to work with, but the mixture of HD colours and low resolution pixels fit well. With the HD colours, I was able to capture a spooky mood quite early, elevating the simple scenes to more than the sum of their parts.
EM: In point-and-click games, specific locations take on a great deal of weight and importance, because unlike a fully 3D game in which players can wander around, we watch events from a singular point of view. That said, for each location in the game, what is your thought process behind stitching everything together? What feels too busy, and what creates the best balance/flow of events?
DD: When we initially whitebox out a scene, we treat the layout and player movement as one of the key factors to consider, because each singular scene is static and you can move between them quickly. It becomes a case of ensuring the player not only has enough interactions and visuals in each scene but also that it doesn't feel like it's forcing the player through areas for the sake of it or endlessly switching back and forth, which can quickly get boring… We'd like to think we've avoided this for the most part, mainly by playing and refining each scene as we progress in development.
EM: As a team of five people, Spooky Doorway covers the bases on art, writing, sound, and developers, but describe your production process. How do you block out the necessary game elements, and how do decisions get made? If someone comes up with an excellent idea late in the development cycle, how do you decide whether or not it gets included?
DD: We'd discuss ideas for cases before putting anything to paper, trying to figure out a funny angle on a supernatural theme. Once we settled on something we all found funny, Dave would map out a case structure, identifying all the main characters, locations, objects and interactions. We'd then do a group read through and discuss any issues we might see, and try to identify scenes which just wouldn't work visually in the orthographic style.
After we made any changes that were necessary, Tracey would quickly build an interactive version using clipart and stick men drawings so we could play through it, and so Dave could add in some dialogue to fill out the story.
At this stage, we'd often identify areas which were either tedious or somehow confusing compared to how we envisioned it on paper. We more than once discovered a case was just not working as we'd imagined and abandoned it because it wasn't reaching the quality level we wanted.
Once we were all happy and found a way to make the flow of the case feel right, we'd start to flesh it out more with the visuals, animations, interactions, sound and music.
EM: The game is comprised of six mysterious cases held together by a unique sense of humor. As you've added plot elements and in-game interactions, what kinds of challenges have you come across? As developers, which is trickier, seeing parts for the whole or making sure each part makes sense in context and on its own?
DD: We'd often hit a wall where an idea just wouldn't work because of the orthographic artstyle and the fact that we had decided to not have the characters walking around. So some really good ideas needed to be redesigned or replaced a few times.
Making the cases feel a little challenging but also having the casual skill level we were aiming for was difficult to get right. We wanted people to have a good time and not get stuck very often, but we also didn't want it to be overly simple.
From the beginning, we wanted each case to be able to stand on its own, so previous cases didn't have all that much impact on how you played the current one, but we also wanted the world of Twin Lakes City to feel populated. Reintroducing characters throughout the game in a meaningful but non-intrusive way was difficult to master. Also, as we made more of the game, we got better at writing it and visualising it. In some instances, we had to go back and change some elements to make the game feel more even from start to finish.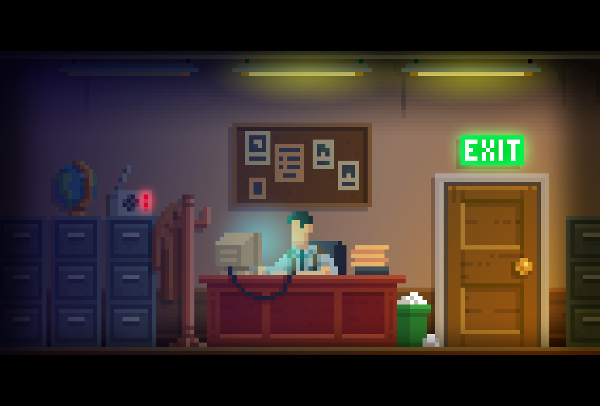 EM: From police cruisers to file cabinets and damaged VHS effects, The Darkside Detective speaks to a time of yesteryear. From this standpoint, what do you see as must-have objects and effects? Without relying on clichés, what elements do you look to in creating a pleasant sense of nostalgia?
DD: Every member of the team has input in this area, and during development, we never actually defined a timeline or date setting for Twin Lakes; it exists in a sort of time warp where we have rotary telephones in the same room as wi-fi enabled sentient AI computers and such, which actually helped greatly as it allowed us to use to pick and choose those elements of nostalgia and fit them in where they felt right.
EM: You've released Malice in Wonderland as a playable demo for fans, and it gives a preview of the acquisition of objects, advancement of story, and humor elements. What kind of responses have you gotten already, and what have you learned by having a taste of your game out there?
DD: Releasing the demo showed us that we had a theme and characters that people really liked. All the comments and Let's Plays helped push us to finish the full game. Also, looking at the Let's Plays, we could see how people were interacting with the game and some of the things they were trying to do that we had never considered before. We learned there was a subtle layer of interactivity we could add to the game which we would have not been aware of. Overall, it helped the later cases become more focused and polished. Malice in Wonderland is the shortest and weakest case in our game, but having it out there early for people to play went a long way to helping us make a better game.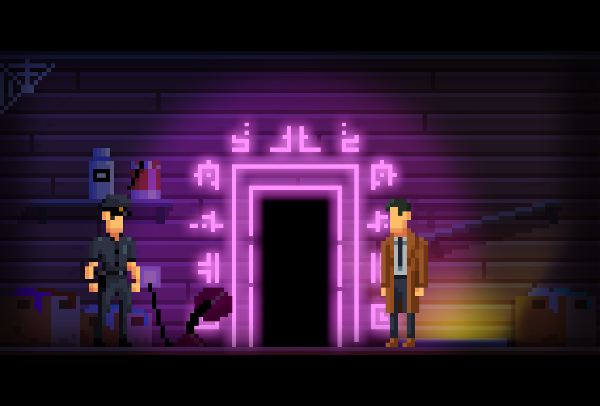 EM: Looking ahead, what does your calendar look like, project-wise? Do you see yourselves releasing more chapters and expanding the game, or do you have new projects on the horizon?
DD: We're working on ideas for more Darkside content at the moment. We've some new cases in mind, and depending on the time we have available to us, we hope to have something new out in the next few months. We are also working on bringing the Darkside Detective to other platforms. If all this works out, we'll definitely consider working on a larger season 2 of the Darkside Detective.
We also have other ideas we're working on, we've some loose designs floating around which are starting to form a solid game concept. We're looking forward to starting something new and different to the world of The Darkside Detective.
In case you missed it, here's the trailer: