Interview: Zealot Dev Team
on
September 3, 2019
Inviting gamers into a world based on Slavic mythology, Zealot provides the kind of pixel art action adventure play that unites a retro feel with modern engines. Propelled by a religious need to cleanse the land and eradicate heretics, the protagonist answers a religious call to arms and becomes a one-man wrecking crew. I chatted with Prime Cut Games devs João Almada and Vasco Mariano on the nuances of their fallen priest and his holy mission.
Erik Meyer: As a top down action / adventure game, Zealot drops players into an open world metroidvania experience; from a practical, playfeel point of view, what do you want the first few minutes of the game to feel like? How do you want players to spend the majority of their time?
João: In Zealot, we aim to deliver challenging and immersive gameplay and, being that our main character is the last orthodox believer alive, we also wanted that loneliness reflected in-game, resulting in hard and dangerous enemies. As such, most of the early gameplay will focus on teaching all the different tools that the player can use, as well as allowing for the player to learn enemy attack timings and patterns. This cycle of learning will be the main focus for the rest of the game as well, by either introducing new enemy types or new weapons and tools, with the blacksmithing system there to provide a brief and useful break from all the action. Exploration wise, after the first zone is completed we open the world to the player, allowing for the four distinct zones to be explored in any order at all, encouraging the finding of secrets and collectable materials and reinforcing that open-world feel.
EM: You're setting Zealot in a world of Slavic mythology, noting a ruined Orthodox colony and Pagan deities that grant otherworldly powers. For the uninitiated, can you describe this universe a bit more? What kinds of things are possible that might surprise gamers? And when it comes to the overall setting, how do you integrate history into the playing experience?
Vasco: Without giving too much away, the story of Zealot is a speculative-fantasy take on ancient tales and real-life history. On the surface, it might seem like some grand fantasy adventure, but the story we're attempting to tell is much more about a clash of ideals than anything else. In this world, faith plays a huge part in setting disputes, as deities are able to physically manifest themselves, bolstered by the belief of their followers. As the player awakens a priest who lays slumbering among the remnants of a ruined Orthodox colony, alone, and with no presence of a God to speak of, he makes it his mission to venture out into this unforgiving land, in the quest to cleanse the land of the Pagan non-believers and their deities, reinstating the one true faith.
The way the story is delivered to the player is very indirect, so to say, in the sense that there aren't any cutscenes, dialogue, or even NPCs to speak to. Instead, we're much more fans of letting players piece together the story as they play, (this goes well with our theme of the player character being a loner) and they will be able to do so by looking at painted murals, reading ancient manuscripts, or just by exploring and examining the environments around them. This, of course, means that not every single player will be able to make sense of the narrative without paying close attention; some players would rather prefer to focus on the action and not let the story get in the way of that, and that's fine too.
EM: There's something about ruins – whether it's in futuristic wastelands or ancient cities built into cliffs – that invites curiosity. Can you speak to the visual look of the game and the elements you see working together to create the overall atmosphere?
Vasco: A lot of it comes down to mood. The ruins we've shown so far are from the beginning area of the game, and for this area, there were a couple of keywords we tried to stick to as we built the environment: lonely, forlorn, ancient; We tried to stick to these words as we built the area and its props – having the old cathedral's walls cracked and covered in overgrown foliage tells the player that this building must've been here for a long time; having the worn out rug inside it and the beat-up steps leading up to the altar tells us that many people must've once gathered in this place; it's these details that really helped in setting the mood we sought to achieve. We've found that appropriate lighting plays a really big part in selling the mood as well, adding dusky, diffused lighting plus some ground fog further cements the atmosphere and makes this environment really come together in the end.
EM: In following from the last question, the game's visual assets apply a 2D pixel art feel to low-poly 3D assets. Per art direction and the philosophy therein, how did you arrive at your current look, and what challenges (beyond scale considerations and a consistent animation appearance) have come with executing in this style?
Vasco: We originally decided on the art-style due to our limited skill-set as a team, simply put. I had done some pixel-art work on and off over the years, and Sam (our 3D artist) had a good grasp on low-poly box modelling, we all obviously also have a deep affection for retro games, which further incentivized us to attempt something anachronistic to that style. I'd say the toughest challenge so far has to do with the texturing of the 3D models; since it all has to be pixel-based, it can be quite time-consuming to texture even a single model, depending on the size. Luckily, we've come across various techniques (such as HD index painting) that help us speed up this process.
EM: I see elements like the prayer sheets, equipment stations, and relics providing for unique gameplay; how do you see the world in terms of options for multiple playthroughs and styles of engagement? As devs, what kinds of paths and strategies do you seek to cultivate?
João: We want the player to never feel like there is only one way to optimally play the game. Every prayer sheet found will offer a different way to passively build your character, the smithing stations will enable different types of weapons to be built, and each relic will imbue the player with a unique and powerful ability. By limiting what can be forged, equipped, and used at any given time, we hope to allow for very distinct play styles, allowing for an avid player to replay the game using different equipment strategies. We're also big fans of "new game plus" systems and would like to implement something like that in the future for sure.
EM: As Prime Cut Games isn't a large studio, could you walk me through an example of your creative process? Let's say you're working on a new area. How do different members of your team communicate, and how much communication happens before something starts getting worked on? In following, where do you see most of your time being spent, and if you were to add members to your team, what task areas could use the most help?
João: As mentioned, we are a pretty small team, so communication between us all is pretty quick and efficient. Before work starts on anything, we have a big brainstorm kind-off session, where ideas are thrown around (a bunch of them truly horrible) and if one comes up that we're all excited about, it gets added to the post-it wall. In short, we collectively decide on the overall aesthetic and gameplay elements that would be featured in a new area, for example. From there, we split into teams: the art team drawing up concepts and making them come to life in 2D or 3D form, while we, the programming team, develop new systems and iterate on previous mechanics. Most of our time is spent in texture work and bug testing/fixing, so we would love to add both a new 2D artist and one more programmer to our squad for sure.
EM: You're based out of Portugal; how do you see your physical location impacting your work? Given the religious traditions you're tackling, do you feel any kind of geographical influence?
Vasco: While we did all grow up in traditionally religious households, I don't think that's what led us to the themes of faith we approach in Zealot. That being said, due to the fact that we are situated in a European country which has a historically long religious tradition, we grew very much accustomed to the ubiquitous aspect of religion, in our schools, at our homes, in our architecture; perhaps that influenced us somewhat in telling the story we chose to depict, but I'm not too sure about that.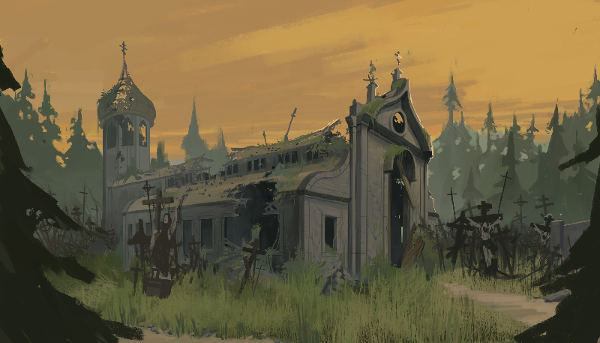 EM: Given new marketing tools and an increasing number of distribution platforms, how do you see distribution changing for indie games? And looking down the line, what do you see as upcoming benchmarks for your team?
João: Indie gaming is more accessible than ever. With consoles like Nintendo Switch elevating indie games in their stores and Epic's new PC store hugely supporting developers, there are many new ways for an indie game to thrive out there in the wild. While there is a very prevalent usage of exclusivity deals nowadays, there are also more games being released because of it. As for Zealot's future, we're currently looking to partner up with a publisher that will help us with development costs and aid us in reaching as wide an audience as possible.
In case you missed it, here's a sample of the music from the game: