Interview: Fallen Angel's Hunter Wu
on
August 6, 2020
Fallen Angel – a project developed by Matrioshka Games with V Publishing on board as publisher – combines Old Testament concepts with 2D, pixel art roleplaying. With floating islands and cyberpunk nightclubs in the mix, I chatted with dev Hunter Wu on the nuanced impetus of his work.
Erik Meyer: As fast-paced RPGs go, Fallen Angel occupies an unusual version of heaven, with Lucifer fighting through alien-esque minions; with regard to the play options and minions that might surprise players, what do you see as stand-out aspects of your work that will blow minds?
Hunter Wu: I'm hoping players will have an awesome time meeting all the characters in the game and seeing how they tie in to actual Judeo-Christian lore. We packed the game with all sorts of esoteric references through text and visuals, and I'm super excited for everyone to be able to experience our interpretations of all the different Angels and the War in Heaven. Our game features a lot of cool settings, ranging from beautiful gardens and nightclubs to war-torn wastelands and Eldritch ruins and the player will be able to hack and slash through all of it.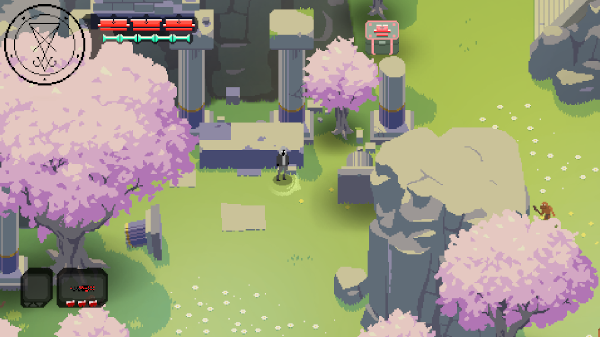 EM: Pixel art has its own conventions, styles, and aesthetics to consider. With regard to color palette and the flow of objects in scenes, what do you use as guiding principles?
HW: We have a lot of talented artists working on the game to make the style all come together. It starts with design documents that the art team uses as references, and then eventually I just put the art assets into the game and fine tune the visuals from there on. The game actually has no main color palette; I've never limited it to a certain amount of colors. I just choose colors that I like and think look good for a setting, and then slowly work it out until it's pleasing to the eye. One thing I use a lot in the game is gradients, which is a rare thing to find in pixel art games. I feel that gradients give the world a greater sense of depth and can sometimes make something bland into something visually impressive.
EM: Given the addition of high-tech constructs and cyberpunk nightclubs, can you flesh out the rules of the universe / game world? Do angels qualify as extradimensional aliens, or has heaven simply existed for a long enough time to have multiple high technologies gained and lost by civilizations long forgotten?
HW: While there are lost civilizations in the game, Heaven in Fallen Angel is mainly about exploring the realms that each Archangel control. The universe puts the Angels and Heaven in a cosmic setting where humans are nothing more than ants. In a way, the angels are aliens, but the humans are indeed related to the angels since God created both. Time is technically nonlinear in heaven, so many biblical events throughout history are referenced in the game. However, even though "time is convoluted", a central aesthetic of heaven is that its level of modernity and has kept up with human society. So the hubworld in our game is a luxurious hotel lobby, and that's where some of the citizens of heaven hang out. Although there aren't really that many citizens, due to the chaos in the realms.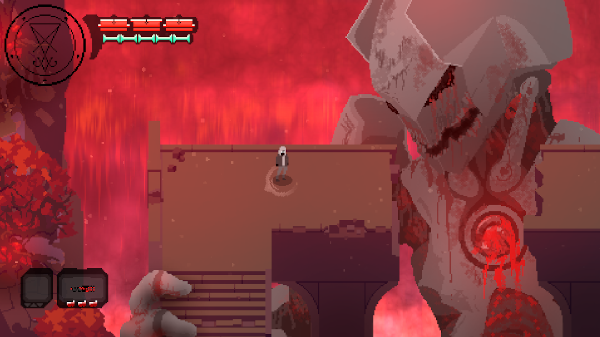 EM: Archangels serve as imposing bosses and provide unique challenges, as you've noted on Twitter. Can you walk through your mental design process and how you go from the idea for an Archangel to full implementation? What kinds of AI/pattern changes do you try to provide? How do you keep a battle challenging without making the experience overwhelming?
HW: We start with visual concepts and designs about how a boss should look based on real texts written about them. From these interpretations, we get awesome illustrations, and from these illustrations, I come up with all the fancy moves the boss should be able to do. I really wanted intimidating bosses that could destroy players if they aren't careful in combat. In the Fallen Angel world, the Archangels aren't handsome winged creatures all carrying flaming swords, but are instead destructive beings capable of a variety of miracles and horrors. All the bosses have their own special AIs ready to surprise players with a variety of lethal moves. Some bosses have gimmicks that players can strategically avoid or target, and players also have a variety of weapons and items to increase their power. Many of our bosses straight up seem overwhelming from the beginning. However, as players progress and gain more power and knowledge, they will end up finding a strategy to defeat the boss that seemed impossible at first, whether it's through raw mechanical combat skills or through special tactics involving items and weapons.
EM: Biblical subject matter – especially providing unique takes on it – can ruffle feathers for some audiences; that said, recent games like Blasphemous have connected with gamers, so what challenges do you see subject matter presenting, and how do you account for said sensibilities?
HW: Personally, I love ruffling the feathers of certain audiences. Once, I was showcasing my game at the Philadelphia Academy of Natural Sciences, and a parent got really angry when I gave the game pitch; they dragged away their crying kid, who didn't understand why he couldn't play the game. I felt bad, but honestly, I put a lot of blood, sweat, and tears into making this game with an authentic biblical vibe. I'd like to think that if God and Heaven are real and all, the archangels are up there playing my game and having a good laugh. I really think the mythologies revolving around the Abrahamic religions are awesome and untouched by modern media. So in Fallen Angel, I take all these ideas and blast them out into this vision, and I hope gamers think it's badass and cool. And it really is cool, especially how we have woven biblical lore into our universe.
EM: Can you give some backstory on Matrioshka Games and the dev environment in which you work? What kinds of institutional support do you have, and how does workflow take place within the team?
HW: In 2016, I started work on Fallen Angel in my bedroom during my freshman year of College at Drexel University at age 19. It's four years later, and I'm still making the game in my bedroom. It was just a side project at first. I worked on it slowly and made no real progress until 2018, when I was awarded an Entrepreneurship Grant and turned my game into an actual startup business. I was also part of Drexel's Entrepreneurship Game Studio my whole time at college, and I wouldn't have made it as far as I did without the support of EGS. There, I found friends, collaborators, and mentors that helped me shape my tiny little GameMaker Studio project into a real team and a real business. With those funds and help from my school, I hired a few talented developers and artists off of Reddit and Twitter. This provided a global team with members across North America, South America, and Europe. I built enough of the game so that I could start marketing it online and at conventions. Soon enough, we had a Kickstarter that we tried and failed. However, we were able to secure a publisher, V Publishing, who has supported us since the beginning of 2020. Our team communicates through Discord, and we share files via Google Drive and Github. I've even never spoken to some of my team members in person, only on voice chat. We just talk through discord. Our team relationships are really focused on the job, and we aren't a super close team that hangs out with each other. It's mainly me personally talking and working with everyone else on the team, and then taking everything they do and gluing all the art, code, and sounds together. The big MVP of the team is definitely always the programmer, who makes the main game development wizardry happen, and I would be completely screwed without them. This project is only possible due to the massive technological progress the world has made and the globalization that has resulted. I also used services from Fiverr for certain assets that I need in the game, although those roles aren't core team roles. It's actually crazy how far we've come, and every day I still can't believe that I'm actually a game developer. Although the game hasn't been in literal full time development over the past 4 years, 4 years ago the game started from scratch, and now it's a full-blown production. I handle more money in my bank accounts than I've ever had in my entire life, and sometimes I look at my money and laugh maniacally before I send everybody their paychecks. I live in fear every day that some major problem will occur and prevent me from finishing the game properly, although I do love spending my time every day as a game developer. Sometimes it gets intense and depressing, and the pandemic has not really helped with that. Because of the fully remote operation I've established, we've had no problems with the pandemic ruining development, so I'm really thankful.
EM: With names like Lucifer attached (fighting through Heaven, no less), the plot immediately takes on high-stakes, big implications weight. With regard to the RPG aspects of the game (NPCs, dialogue), how do you keep the interactions immediate and personal, as opposed to stock characters or overused tropes?
HW: I'll be honest, I have no idea how people will react and feel during their experience playing this game. I'm always worried that my ideas won't get through to the audience. I hope people have fun discovering and talking to all the characters. We use many tropes in our game, but we try to be tasteful about it and all our characters have their own really interesting motives. The character has the ability to "converse" with the boss before the fight in a short dialogue sequence, so this gives players a way to create a personality for how they want Lucifer to act. This doesn't change the outcome of the battle or the game ending, but it gives players a sense of agency as they learn more about Heaven and Lucifer. You can be a snobby brat or an omega edgelord, and bosses have varying responses to your style.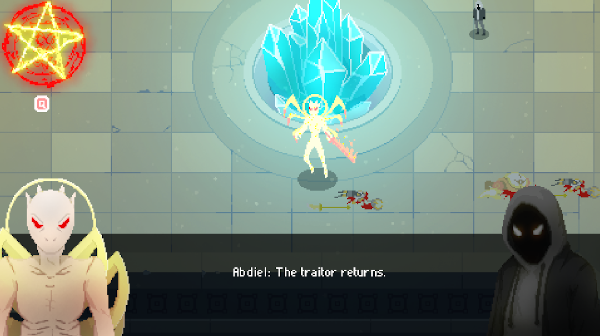 EM: Clearly, a great deal of work has been completed, so what milestones and benchmarks do you have coming up, in terms of progress and team goals? What do things look like between now and the end of the year?
HW: We're looking at an October release currently. The game is mostly done, but now we're polishing it with final details and doing bug testing. There're a lot of bugs to hammer out and many gameplay issues to fix before it's the perfect game I want everyone to play. Many of our team's roles are nearly finished or entirely done and now it's really just up to the programmer and me to make the game as shiny and playable as possible. There's also a lot of marketing to do to make sure our audiences know about the game. I can't wait to finally release it. Being locked home working on the game for the past 5 months has also made life seem like some kind of time loop. The game has been my life every day for the past 2 years. Who knows if we will even sell well? The indie game development dream is right around the corner for me, and I'm ready for this journey to end. And I can't wait to start my next game; I've learned so many lessons about team management, business operations, asset production and game engines. The next project I work on will be better in every single way.
In case you missed it, here's the trailer: